Reich College of Education Inclusive Excellence Team
Dr. Tempestt Adams, Department of Curriculum and Instruction Liaison
Dr. Elizabeth Bellows, Inclusive Excellence Coordinator, RCOE Faculty Fellow
Dr. Kristen Benson, Department of Human Development and Psychological Counseling Liaison
Dr. Brandy Bryson, Inclusive Excellence Director (on OCSA 2020-2021)
Dr. Dionne Busio, Department of Family and Child Studies Liaison
Lori Dean, Staff Liaison
Tammie Gelderman, Staff Liaison
Dr. Susan Hedges, Department of Reading Education and Special Education Liaison
María Hofman Hernandez, Staff Liaison
Dr. Greg McClure, Inclusive Excellence Coordinator
Dr. Alicia Muhammad, James Center for Student Success and Advising Liaison
Dr. Patrick O'Shea, Department of Leadership and Educational Studies Liaison
Dr. Matthew Thomas-Reid, Inclusive Excellence Coordinator
---
Reich College of Education's Anti-racist Framework
As faculty and staff in the Reich College of Education, we are keenly interested and invested in doing the work of anti-racism as it applies to all work we do in the college.
The IE Team invites you to sign the RCOE Anti-Racist Framework.
---
Events and Workshops
Courageous Conversation: Courageous Conversations Part Two: A Discussion with James Ford and E(race)ing Inequities in NC Public Schools
Inclusive Online Teaching Strategies
Inclusive Online Teaching Strategies developed by the RCOE Inclusive Excellence Team.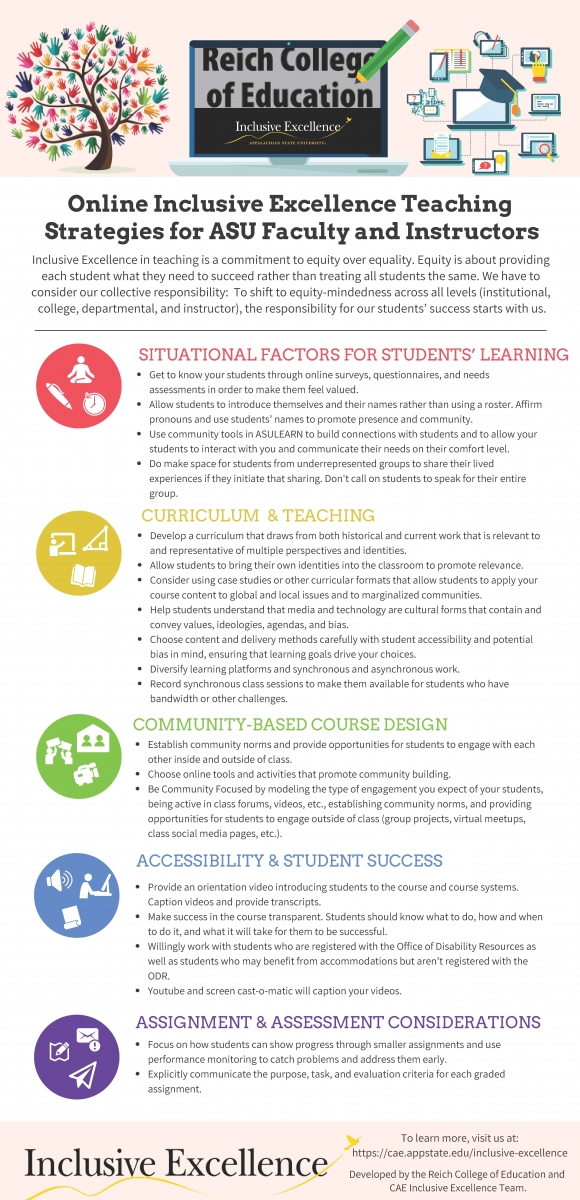 For text only, click here.