Message from the Dean
Dear RCOE Community,
I am struggling, I say that because I know words are inadequate right now, but I also know that silence is not an option, and I care about each of you. To our Black faculty, staff, students, and community friends and partners, I am so sorry for the pain you are experiencing. Your college is here to stand with you and support you.
I want to acknowledge the grief and pain that is being felt across our country and in our local communities. The recent killings of Breonna Taylor, Ahmaud Arbery, and most recently George Floyd - these are examples of the systemic racial injustice that plagues our country. The news/media venues and headlines are full of stories and words sharing the pain and the anger. It is heartbreaking and overwhelming, but we cannot be silent in word, or deed.
Our collective work as educators, as a college, becomes even more important now. We must work to commit to not only acknowledging the problematic histories and practices that have perpetuated racial injustice, but we must commit to supporting educational opportunities for individuals and communities that are impacted by these legacies of racism.
As a college of education with a commitment to socially just practices, we have a responsibility to ask – what can we do, what must we do? Even more, we must lead in sharing our voices condemning systemic racial injustice.
I am grateful for each of you. I am optimistic in our future as we focus together on our commitment to educational justice and equity and for the humanity of every person. I continue to work through my role as a leader in this. I know words are not enough. If you need support in a particular way during this time, or into the future please let me know.
My Best,
Melba Spooner, Dean
---
Reich College of Education Inclusive Excellence Team
Dr. Tempestt Adams, Department of Curriculum and Instruction Liaison
Dr. Elizabeth Bellows, Inclusive Excellence Coordinator, RCOE Faculty Fellow
Dr. Kristen Benson, Department of Human Development and Psychological Counseling Liaison
Dr. Brandy Bryson, Inclusive Excellence Director (on OCSA 2020-2021)
Dr. Dionne Busio, Department of Family and Child Studies Liaison
Lori Dean, Staff Liaison
Tammie Gelderman, Staff Liaison
Dr. Susan Hedges, Department of Reading Education and Special Education Liaison
María Hofman Hernandez, Staff Liaison
Dr. Greg McClure, Inclusive Excellence Coordinator
Dr. Alicia Muhammad, James Center for Student Success and Advising Liaison
Dr. Patrick O'Shea, Department of Leadership and Educational Studies Liaison
Dr. Matthew Thomas-Reid, Inclusive Excellence Coordinator
---
Reich College of Education's Anti-racist Framework
As faculty and staff in the Reich College of Education, we are keenly interested and invested in doing the work of anti-racism as it applies to all work we do in the college.
The IE Team invites you to sign the RCOE Anti-Racist Framework.
---
Inclusive Online Teaching Strategies
Inclusive Online Teaching Strategies developed by the RCOE Inclusive Excellence Team.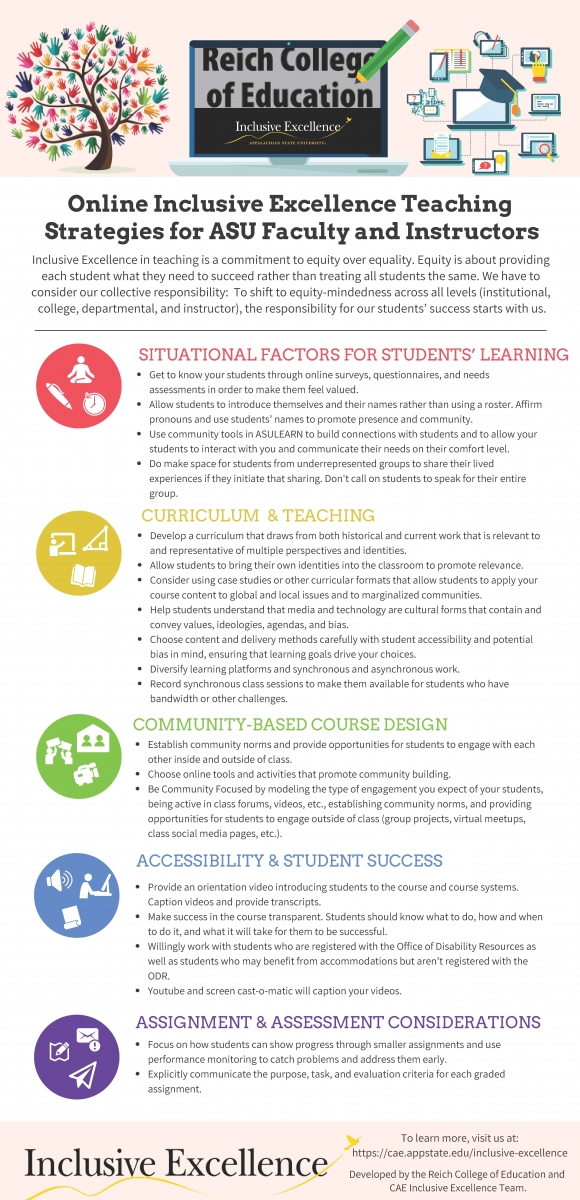 For text only, click here.