For a short time Thursday afternoon, Appalachian State University Chancellor Sheri Everts returned to a familiar scene: a K-12 classroom.
Everts stopped by each classroom at Appalachian State University Academy at Middle Fork, handing out books for every student to take home with them. Her visit was meant to be both an opportunity to increase literacy options for students, as well as show the university's support to those in the elementary school.
"As a former, especially as a former English teacher, an opportunity to come to a K-12 setting where I know how important literacy is and to be able to get to visit them and see almost every child raise his or her hand about how much they love books and love to read, that warmed my heart," she said.
Read the full story to learn more.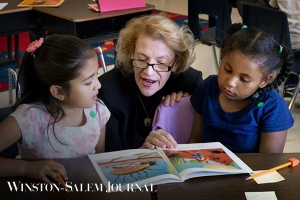 Tags: