Twelve students and recent graduates from Appalachian State University have been invited to serve in the Peace Corps in 2019. Deborah Buckley, a recruiter for Western North Carolina Peace Corps, said the number represents the largest group of Appalachian invitees since she began recruiting in the area in 2014.
"This year's large number of Peace Corps invitees is evidence our students, faculty and staff want to make an impact on the world," said Dr. Susan McCracken, director of career development and economic engagement at Appalachian. "The number is representative of our commitment to support the Peace Corps and to support diversity around making the Peace Corps known to students who aren't familiar with it."
Peace Corps Prep Program at Appalachian
To further sustain and bolster the numbers of recruits, Appalachian's Career Development Centerlaunched a Peace Corps Prep Program last fall. The program is designed to give students a competitive edge for the Peace Corps application process by building on four core competencies — training and experience in a work sector, foreign language skills, intercultural competence, and professional and leadership development — which help prepare students for international development work and potential Peace Corps service.
Appalachian is one of only a few Peace Corps Prep Partner Schools in North Carolina.
"Being selected by the Peace Corps to implement the Peace Corps Prep Program is a significant endorsement of the value Appalachian places on global learning and diversity," McCracken said.
Students can enter the program at any time, and if they've already fulfilled the program requirements, they can catalogue their progress. Once the student's catalogue is verified, the Career Development Center will send it to the Peace Corps, which will provide a certificate stating the student has completed the program.
The invitees
Service around the globe
Appalachian's 2019 Peace Corps invitees will serve in the following countries:
Ecuador.
Gambia.
Ghana.
Guyana.
Malawi.
Moldova.
Panama.
Senegal.
Togo.
Zambia.
Appalachian's 2019 Peace Corps invitees will each serve in one of six different work sectors — agriculture, community economic development, education, environment, health, and youth in development — in 10 countries located on four continents around the globe.
The 2019 invitees:
Lindsey Abdelfattah '18, of Bessemer City — an alumna with a B.S.B.A. in management.
Paige Anderson '18, of Mooresville — an alumna with a B.S. in elementary education.
Talley Breedlove '17, of Overland Park, Kansas — an alumna with a B.A. in global studies.
Montana Brown '17, of Lexington — an alumnus with a B.S. in political science.
Davis Clark, of Morganton — a senior environmental science major.
Itzel Cruz, of Hendersonville — a senior biology major.
Elizabeth Hens '18, of Greensboro — an alumna with a B.S. in communication, public relations.
Kelly Hoeltzel '18, of Hertford — an alumna with a B.S. in sustainable development.
Sarah Raftery '18, of Barkhamsted, Connecticut — an alumna with a B.S. in sustainable development.
Maryann Riley, of Columbia, South Carolina — a senior child development major.
Ramsey Wyles '17, of Gaffney, South Carolina — an alumna with a B.A. in global studies.
One invitee wished to remain anonymous and is therefore not listed.
Students interested in learning more about Peace Corps service and the Peace Corps Prep Program can attend informational sessions held throughout the semester or connect with the organization at Careers For Impact on Wednesday, Feb. 20, in Appalachian's Plemmons Student Union.
Read the full story to learn more.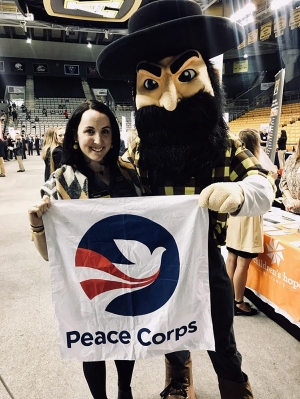 Tags: