Academy at Middle Fork, the App State state-mandated lab school, is nearing the end of its first year in which elementary students have boosted their test scores and learned about App State in the process.
The North Carolina General Assembly passed legislation in 2016 that mandated nine colleges of education in the state to establish laboratory schools. Reich College of Education partnered with the Winston-Salem/Forsyth County Schools to create the lab school, Academy at Middle Fork.
Lab schools are located in low-performing districts, where a certain percentage of students have not met expected growth and performance in the classroom.
"They asked us to work with Middle Fork Elementary School, which at that time was the fifth-lowest performing school in the state," assistant dean for the Academy at Middle Fork Robin Groce said.
Groce said RCOE and Middle Fork hired a principal and 29 faculty members, including eight App State graduates, for the 2018-19 academic year.
RCOE directors and faculty created a curriculum for the school with an emphasis on improving literacy.
"Reading is a big part of that curriculum," Groce said. "They're reading in science; they're reading in social studies; they read in math. It's just a big huge part of the school focus."
Read the full story to learn more.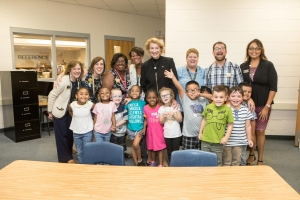 Tags: