Some people sat in wooden chairs, others perched on hay bales; baskets were filled to the brim with apples for the taking; attendees congregated on a stone plaza as if it were the first day of classes. It might well have been a scene at Watauga Academy in 1899, but the B.B. Dougherty proudly presiding over the proceedings was only a statue, and next to the plaza wasn't farmland but a vibrant campus.
Sept. 5 marked Founders Day at Appalachian State University — a day recognizing and commemorating the history of the university.
Appalachian Chancellor Sheri Everts was joined by more than 25 members of the Dougherty family, former chancellors and the Appalachian Community past and present on Wednesday for Founders Day, which featured a dedication and ribbon-cutting for Appalachian's new Founders Plaza.
"We've come a long way from the 53 students enrolled in the Watauga Academy in 1899," Everts said to the crowd of around 250 people, many of whom were dressed in black and gold.
"Today, Appalachian enrolls more than 19,000 students, and many Appalachian values have lasted over time: a life-changing educational experience, an appreciation of our surroundings, preservation of our resources and the enduring qualities of generosity and mutual respect that bind the Appalachian Community."
The Founders Day tradition will be celebrated each fall to honor Appalachian's founders — B.B. and D.D. Dougherty and Lillie Shull Dougherty — and the first day of classes at Appalachian in 1899, then known as Watauga Academy.
Read the full story to learn more.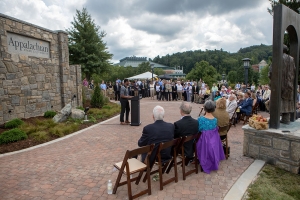 Tags: