The Reich College of Education Team First raised $1,460.
Appalachian State University and its Beaver College of Health Sciences, along with Appalachian Regional Healthcare System, partnered with the ALS Association North Carolina Chapter to sponsor the university's inaugural Walk to Defeat ALS. More than 500 walkers participated in the event Saturday, raising nearly $47,000 for the ALS Association and its mission of research, advocacy and service.
This year's event was organized to honor Dr. Dane Ward, dean of libraries at Appalachian. Ward was diagnosed with amyotrophic lateral sclerosis (ALS) — also known as Lou Gehrig's disease — in October 2017, shortly after he and his wife, Jenny Ward, director of development in the Beaver College of Health Sciences (BCHS), moved to Boone. ALS is a progressive neurodegenerative disease that affects the nerve cells of the brain and spinal cord.
"I am so grateful for the tremendous support of our community for Appalachian's first Walk to Defeat ALS," Ward said. "The large turnout and funds raised highlight the caring nature of the High Country and our collective willingness to help each other during times of need."
Read the full story to learn more.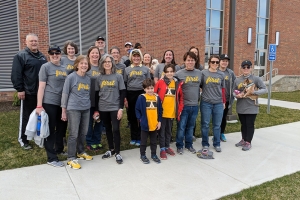 Tags: