As a physical education teacher, Stephen Vaughn '05 had watched one of his students struggle with anger. He never knew when the explosions would come, but they inevitably did.
Vaughn, whose professors at Appalachian State University had preached the power of physical education to transform lives, tried to reach the boy with encouraging words, but he wasn't sure he was helping. One day, they were sitting on a bench talking and the boy said, "I don't have a father."
"I don't either," Vaughn told him.
The boy collapsed into Vaughn's arms crying.
Such moments get to the heart of what Xcel2Fitness (X2F), a nonprofit that offers an after-school fitness program for boys in the third through fifth grades, is about. Vaughn, the founder of the organization, channeled his own grief over the loss of his father to create a program that uses the fundamentals of fitness to build character in boys and provide them with guidance and strong role models.
X2F began as a pilot program at three schools in the Charlotte area in 2011. Today, over 5,000 boys in eight states have participated.
Jason Pavelchak, a 2003 Appalachian graduate with a degree in elementary education, was a coach at one of the pilot schools. He officially joined X2F in 2016as vice president of operations and has helped Vaughn refine the curriculum.
"We know that for third and fifth grade boys, they're not going to know their life's calling," Pavelchak said. "This is about how to get on a path and stay on a path. It's having the right people to support you, along with grit and perseverance."
Read the full story to learn more.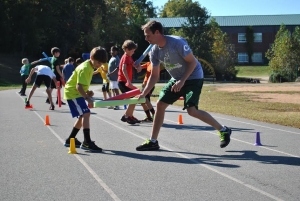 Tags: