Appalachian State University is among 27 universities across the country selected to host the Mandela Washington Fellowship for Young African Leaders in 2019. This summer, Appalachian will host 25 of Africa's emerging civic leaders — ages 25–35 — for a six-week Leadership Institute, sponsored by the U.S. Department of State's Bureau of Educational and Cultural Affairs.
The Mandela Washington Fellowship for Young African Leaders, which began in 2014, is the flagship program of the Young African Leaders Initiative (YALI). The program was created to empower young African leaders through academic coursework, leadership training, mentoring, professional opportunities, networking and local community engagement.
To date, Appalachian has hosted three institutes for the Mandela Washington Fellowship and has a network of 75 alumni of the program.
"I am very excited that Appalachian was again selected to participate in the implementation of the Mandela Washington Fellowship Institute. This is a great honor for our university and it demonstrates the confidence that both the U.S. Department of State and IREX have in Appalachian's capacity to successfully implement programs of this nature," said Dr. Jesse Lutabingwa, Appalachian's associate vice chancellor for international education and development. Lutabingwa is also the director of international research and development and a professor of public administration in Appalachian's Department of Government and Justice Studies.
Read the full story to learn more.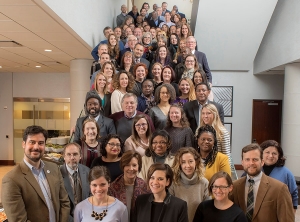 Tags: