Ten incoming first-year students at Appalachian State University have been awarded the prestigious Chancellor's Scholarship, which covers full institutional costs for four years of study. The Chancellor's Scholarship is Appalachian's oldest and most academically competitive merit-based scholarship.
"These incoming Chancellor's Scholars truly represent individuals eager to engage in and embrace the life-changing Appalachian experience," Chancellor Sheri Everts said. "Their ambitious academic goals and demonstrated dedication to community service and leadership have earned them this honor. Appalachian will provide them an environment where they can thrive and become engaged global citizens."
The 2018 recipients of the Chancellor's Scholarship:
STEM Early College at North Carolina A&T graduate Rebecca Brown, from High Point.
Western Guilford High School graduate Judith Espitia-Lara, from Greensboro.
Hendersonville High School graduate Olivia "Liv" Hill, from Hendersonville.
Kyder Christian Academy graduate Gabrianne Ivey, from Franklin.
Marjory Stoneman Douglas High School graduate Kate Keane, from Parkland, Florida.
West Forsyth High School graduate Abraham "Abe" Krell, from Clemmons.
Hinsdale South High School graduate Miranda Lowery, from Darien, Illinois.
Nash-Rocky Mount Early College High School graduate Cielo Murillo-Gomez, from Bailey.
Cabarrus-Kannapolis Early College High School graduate Osonia Rojas Clavel, from Concord.
Wake Early College of Health and Sciences High School graduate Eloisa Sanchez, from Zebulon.

Chancellor's Scholars may be in any major program and are leaders in the Honors College at Appalachian. The scholarship offers full institutional costs for eight semesters and other academic and cocurricular benefits, including special housing and travel opportunities. Students must maintain a 3.45 minimum grade point average to renew the scholarship each year.
About Eloisa Sanchez
Sanchez, who intends to major in mathematics with a concentration in secondary education, is the president of her church's youth council and spends much of her time organizing and leading youth retreats. She said she enjoys aerial dancing and has a special talent for the trapeze.
After graduation from Appalachian, Sanchez said she plans to pursue a master's degree in education and begin her career as an educator. "Most of all," she said, "I want to teach in a way to truly help support my students." Sanchez is the daughter of Maria A. Rodriguez Galindo.
Read the full story to learn more.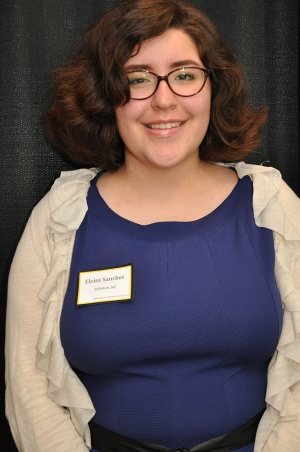 Tags: