Appalachian State University is in its fourth week of school at a state-mandated laboratory school it launched in Winston-Salem this year.
The Academy at Middle Fork is a public school and partnership between the Reich College of Education at ASU and Winston-Salem/Forsyth County Schools that serves kindergarten through fifth grades.
The Academy at Middle Fork opened on Aug 27. ASU Chancellor Sheri Everts visited the school and delivered books to the children there three days after it opened.
Reich College of Education Dean Melba Spooner said that the university's college of education began conversations with the Winston-Salem/Forsyth School District as a partnering district as early as the academic year of 2016-17. Those involved decided that Middle Fork Elementary was the prime location for ASU's laboratory school.
Spooner said the university started the curriculum developing process by looking at the needs — both in terms of what the law mandates and the needs of the school district. A curriculum team was then put in place to develop the core commitments to the academy's standards.
These commitments were created with the central focus of early literacy. These commitments include learning together, developing the whole child, boosting academics and amplifying sustainability, Spooner said.
Read the full story to learn more.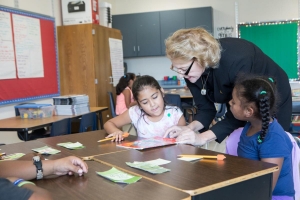 Tags: