Alumnus Dr. Chris Blanton '02 named Watauga County Schools Principal of the Year.
After being appointed as the Watauga High School principal two years ago, Chris Blanton was named the Watauga County Schools 2019-20 Principal of the Year.
Blanton was presented the award by a delegation of family, peers and WCS leadership in a surprise ceremony Feb. 22. Superintendent Scott Elliott was joined by Board of Education Chairman Ron Henries and Vice-Chair Brenda Reese to present Blanton with the award.
"In just two years, Dr. Blanton has supported and led teacher efforts to improve professional learning and collaboration among staff members," Elliott said in a statement. "He is constantly looking for new ways to support and improve options for all students, including alternative options for our most-struggling students."
Elliott said Blanton's job was made even more challenging and important since he is tasked with taking the lead at Watauga's only high school.
"Being the principal of the one and only high school in our county is no small job," Elliott said in a statement. "Dr. Blanton faces many challenges every day, but he is continually optimistic and positive about the great things happening at WHS. He has very high expectations for his staff, for the students and most of all for himself."
Blanton said he was honored to have been recognized by his colleagues across the district for the award.
Read the full story to learn more.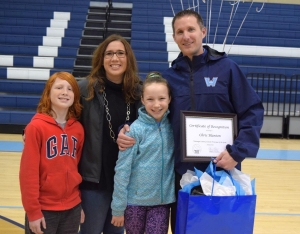 Tags: