Dr. Andrew Koricich (LES) featured in Chapter 1: Rural America is Bleeding
Chapter 1: Rural America Is Bleeding
In the 16 years between 1994 and 2010, 759 rural counties across 42 states lost population, according to the Pew Research Center. Since 2010, America's 100 largest counties have seen growth of 9.3 million new residents — but more than 1,400 of the 2,155 counties with populations under 50,000 saw population declines in the past nine years, according to 2018 data from the U.S. Census Bureau. Counties with fewer than 25,000 residents have lost around 2 percent of their total population, or the equivalent of 274,000 residents.
Rural America is bleeding. The map of rural counties that lost more than 4 percent of their populations in the past decade looks like someone covered their hand in paint and smeared it down southwest into New Mexico, north through the Dakotas and Iowa, east to West Virginia, and southeast through the Mississippi Delta and Alabama's open lands.
Rural America is losing young people to "brain drain," the term used by scholars and politicians alike to describe the effect created by young people, particularly millennials, who leave communities in droves for more urban areas. A fear of this phenomenon also causes many rural families to be hesitant about sending their children off to college — because those students tend not to return. College, once a path toward opportunity, is now increasingly "a ticket out of Nowheresville" for rural students.
This is widening the urban-rural divide, where the country's top talent is congregating in select pockets of the country and draining smaller towns and communities of the education and skills that they need — perhaps more than anyone else.
Earlier this year, as Amazon visited the 20 cities on its list of finalists to house its second headquarters, the internet giant sought out specific data on education — such as the SAT and ACT scores of their high school students. Winning Amazon's bid for its HQ2 would have marked a huge boon for a number of cities with stagnating economies, but the web commerce and cloud computing company ultimately selected New York City and northern Virginia, both locations with high concentrations of educated and skilled workers.
Even leaders from a major metropolis with tech talent like Dallas-Fort Worth recognize the area's educational deficiencies.
We have "to look hard at ourselves and say, 'Why can we not beat New York City and Washington, D.C.?'" Dallas mayor Mike Rawlings said at a news conference in Dallas. "It's all about the people…. If our state does not [spend more on public schools and colleges], then we will not be able to compete with these cities."
Andrew Koricich, a professor at Appalachian State University who studies rural education, has looked into rural students' access to education and how barriers like transportation or distance to the nearest institution can change the likelihood of a rural student's chances of completing postsecondary education.
In a soon-to-be-published study with colleagues, Koricich found that rural students are less likely than students in more suburban and urban places to attend postsecondary education of any type. When rural students do get access to education, brain drain can set in.
"Brain drain in rural communities represents a paradox in which rural communities do an outstanding job of nurturing talented youth, only to have them permanently leave the community in the future. The impacts of this population loss can be devastating," Koricich writes in research about community colleges' role in preparing the workforce.
The challenges that urban areas face, like poverty and equity in education, also exist in rural areas. The nature of these communities being more isolated and farther away from population centers compounds these problems.
"It's that they are experiencing a lot of the same issues as everyone else, but that the isolation and distance makes it harder to overcome those same challenges," Koricich said.
Young people leave rural areas for myriad reasons: jobs, education, opportunities. But in Middle and Southern America, they often don't return. Rural communities are highly aware of their challenges, but finding creative ways to combat rural brain drain and "stop the bleeding," as Nebraska state Sen. Brett Lindstrom describes it, depends on the community.
Read the full story to learn more.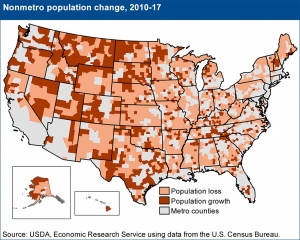 Tags: