Cherokee High School students traveled to Green Valley Elementary School on Feb. 13 to teach a Valentine's Day lesson by sharing the traditional Cherokee story of the first strawberries.
The six CHS students who visited the school are dual-enrolled at Appalachian State University and are taking this semester's Cherokee Culture and Leadership class taught by CHS teacher Heath Robertson and Reich College of Education Associate Professor Allen Bryant.
The students— Darius Lambert, Derek Torres, Emma Stamper, Isiah Evans, Shirley Peebles and Tay Lambert — were joined by Robertson for the visit. The group shared their lesson with Angie Austin's third-grade and Audrey Mikkola's fourth-grade classes.
The students told the story of the strawberries through the children's book The First Strawberries by Joseph Bruchac. Bryant explained that the book is based on an ancient traditional Cherokee story of the first man, the first woman and how strawberries came to be.
Bryant said the story illustrates that the first man had come home from hunting and had an argument with the first woman when he saw that dinner had not been prepared. After the argument, the woman had left the home and the man felt bad about the things he had said.
The man traveled to find the woman but she was too far ahead, Bryant said. He said the story reads that the man asked the creator to slow the woman down so he could apologize. The book states that the creator produced food in her path — such as blackberries and blueberries; however, it wasn't until the creator had made strawberries that the woman decided to stop and eat some.
Read the full story to learn more.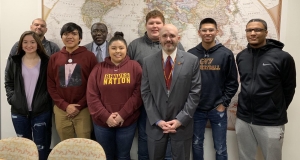 Tags: