Dr. Allen Bryant is a professor in the Department of Curriculum and Instruction and facilitates a partnership with the Cherokee Central Schools.
The Chieftains Museum/Major Ridge Home is will partner with Cherokee High School in North Carolina and Appalachian State University to bring students from the Gadugi Scholars Program for a corn planting ceremony at Chieftains at noon Saturday, May 11 on the museum campus.
Allen Bryant, an associate professor in the College of Education at Appalachian State, is seeking to enhance the knowledge of native Cherokee students with their historic background while at the same time providing an opportunity for the community to interact with the Cherokee youth.
Bryant facilitates a partnership with Cherokee Central Schools to encourage American Indian students on the Qualla Boundary in North Carolina to pursue the field of education, a significant need among the Eastern Band of Cherokee.
Read the full story to learn more.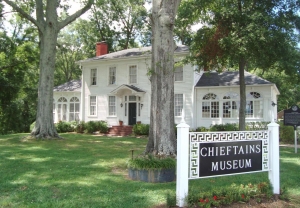 Tags: