The College of Arts and Sciences is proud to announce that Judson MacDonald from Cary, North Carolina, has been named the Outstanding Student Teacher of the Year recipient for the 2016-2017 academic year. Judson graduated with his BS in Spanish Education from the Department of Languages, Literatures and Cultures in May of 2017 and is currently an accelerated admissions student pursuing a Masters in Romance Languages.
Judson is also a James Patterson Scholar at Appalachian. The James Patterson Teacher Education Scholarship funded through the Patterson Family Foundation turns the dream of going to college into reality, covering tuition and related expenses for the recipients. It is awarded based on financial need and the potential to become leaders in education.
This year, the College of Arts and Sciences (CAS) initiated their first Outstanding Student Teacher Award on the college level. There were eight nominees from six of the 16 departments in the college competing for the award.
Judson will go on to compete for the Appalachian State University Outstanding Student Teacher Award. The winner of the University level award, then goes on to represent the campus in the North Carolina Association of Colleges of Teacher Education (NC-ACTE) Student Teacher of the Year competition.
Read the full story to learn more.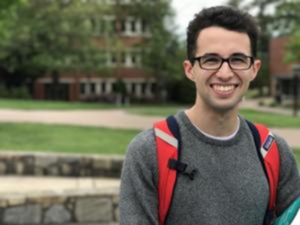 Tags: