College Factual, a source of data analytics and insights on college outcomes, recently released two rankings that included Appalachian State University as a top school for specific types of students.
A top-10 school in North Carolina for veterans
College Factual recently included Appalachian in its 2018 "Best Colleges for Veterans" rankings. The university was recognized as a top-10 school for veterans in North Carolina.
College Factual ranked Appalachian sixth out of 49 colleges and universities in North Carolina for veteran friendliness — an advancement of one positon from the university's 2017 ranking of seven.
An educational value for international students
Appalachian also excelled in College Factual's 2018 "Best U.S. Colleges & Universities for Students From Outside the USA" rankings. The university placed within the top 15 percent nationally and fourth in the state for the quality of education the school provides to international students for the price paid.
Appalachian ranked 161 out of a total of 1,148 colleges and universities nationwide for educational value for international students. The university placed fourth out of 43 schools in North Carolina. This makes Appalachian an affordable option for students from outside the U.S. who wish to live and study in the state of North Carolina.
Read the full story to learn more.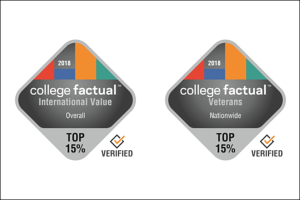 Tags: