Appalachian State University's six commencement ceremonies began Friday, May 12, with Chancellor Sheri N. Everts praising the "achievements of our students as they leave Appalachian prepared to make real and powerful differences in their communities and beyond."
A total of 3,071 undergraduate students and 400 graduate students received degrees.
Students were the featured speakers at five of the college ceremonies, which took place May 12 and 13.
The student speakers reflected Appalachian's diverse student population. They included an immigrant from Kenya who plans to pursue her law degree, a young mother who completed her degree online and a first-generation college student from a high school where less than 14 percent of her class graduated. In their talks, they recounted life experiences, losses and dreams fulfilled. They expressed appreciation for all who inspired and motivated them, quoting everyone from Thoreau to Harry Potter in the process.
Reich College of Education
During Friday's events, the Reich College of Education ceremony featured two student speakers. Representing graduate students was Tiffiny Francis of Mooresville, who received a Master of Library Science degree. Representing undergraduates was Emily Stratton of Hendersonville, who received a Bachelor of Science degree in early childhood development birth-kindergarten education.
Francis said she did not expect to change jobs three times and give birth to a daughter during her time at Appalachian.
"Through each of these plot twists, my support system extended beyond my family and friends to my professors and classmates," she said. "Without their support and encouraging words, the ending I envisioned would not have been possible…We are all in this together."
While at Appalachian, Francis received the Louise Moore Plybon Library Science Scholarship for outstanding promise in the field of library science. She also worked in the Carrabus County Public Library system in addition to helping build a science and technology program for school-aged children.
As for Stratton, she made the dean's list several times and was a member of the university's Child Advocacy Club. She lauded the college's "passionate professors teaching us how to teach."
The professors "have inspired us," she said. "Now it is our turn to pass it on."
Read the full story to learn more.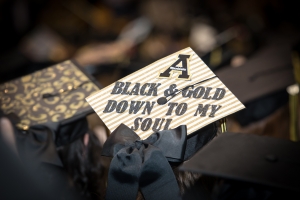 Tags: