Developing a more diverse and inclusive campus is a priority for Appalachian State University, and its most recent step toward "inclusive excellence" was a three-day residency by one of the nation's recognized experts in strategic diversity leadership and organizational change.
Dr. Damon A. Williams met with senior university leadership and a number of groups Aug. 27–29 to explore pathways to diversity, equity, inclusion and change at Appalachian.
These groups included deans, associate deans, and department chairs; professional staff in divisions and units across campus; student leaders; and individuals on campus known as "diversity champions" who have been committed to improving diversity and inclusion at various levels across campus.
Inclusive excellence, according to Williams, is the final stage of an institution's diversity evolution in which lasting and successful strategic change is achieved. It involves a clear investment of resources and a high degree of coordination.
In advocating inclusive excellence, Chancellor Sheri Everts said, "I encourage each of us to consider how we can share in this collective responsibility. It is incumbent upon us all to find ways to make our community one that offers every member the same opportunity to thrive."
Read the full story to learn more.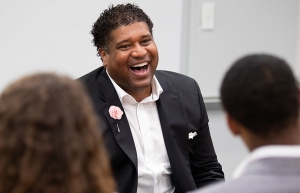 Tags: