Joni Russell graduated in December 2009 with a bachelor's in English secondary education.
Joni Russell wants to be a millionaire.
Russell, a Clemmons resident who teaches English at Davie County Early College High School, will get her shot Friday (Feb. 1) on "Who Wants to be a Millionaire," the syndicated daytime version of the long-running game show. Locally, the show airs on WXLV ABC-45 at 10 a.m.
Actually, she knows how she did — her episode was taped back in July — but, as is the usual practice for game shows, she can't reveal the results until after the episode airs.
Russell was allowed to let people know she appeared on the show, just not how she did. But she chose to only let her immediate circle of friends and family know even that much until her participation was announced in the Journal.
"All of a sudden, everybody was texting me," she said.
In the show, contestants try to answer 14 questions to win a $1 million jackpot. The American version of the show debuted back in 1999 and has had several hosts over the years, including Regis Philbin, Meredith Vieira, Cedric the Entertainer and Terry Crews. Currently, the host is Chris Harrison, a veteran of the ABC's "The Bachelor."
Russell is originally from East Bend and graduated from Appalachian State University. Now 31, she is in her 10th year teaching at Davie Early College.
Read the full story to learn more.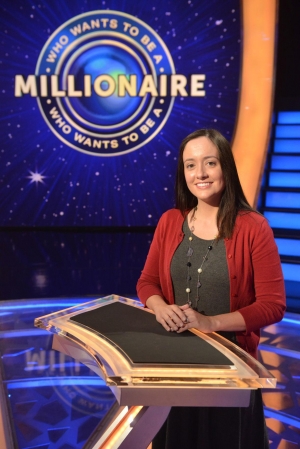 Tags: