Many of the sculptures that adorn Appalachian State University's campus were gifted by Irwin "Ike" Belk. The prominent North Carolina business leader and philanthropist died Saturday, Feb. 24, at his home. Belk was 95.
The "Aspire" statue that is the focal point of Sanford Mall was gifted by Belk, as was the iconic bronze Mountaineer statue located at the entrance to Stadium Drive.
The Charlotte native was one of the university's most dedicated and generous benefactors. "Mr. Belk's contributions supported our library, our colleges, improved our athletic facilities and culturally enhanced the daily experience of being on our campus," Chancellor Sheri Everts said. "Mr. Belk was always positive and proud to support higher education. His legacy provides great inspiration to our community."
Belk's family name adorns Belk Residence Hall, and Carol Grotnes Belk Library and Information Commons is named in honor of his late wife. He commissioned sculptures for the Reich College of Education and the Belk Library and Information Commons, as well as the mural, "The Quest for Knowledge," located in the library's atrium.
Read the full story to learn more.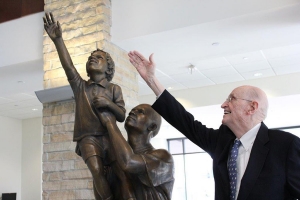 Tags: