In the current digital age — a time when computer technology quickly and widely disseminates information — when, according to Google, its search engine can comb hundreds of billions of websites in a fraction of a second and return page upon virtual page of results in response to "What is fake news?" — the question arises: Why are physical libraries still needed?
The answers are many, according to Dr. Dane Ward, dean of University Libraries at Appalachian State University, Dr. Ericka Patillo, associate dean of libraries, and Information Literacy and Instruction Coordinator Kelly McBride. The trio pinpoint relationship building, sustainable library spaces and materials, and ingraining of information literacy into the curriculum as the keys for academic libraries to continue successfully serving their communities in a digital age.
Patillo noted that, while Belk Library has transitioned to having a higher percentage and circulation of materials in electronic format than its physical collections, she said the gate count — the number of people coming into the library — has remained consistent. In the 2016–17 academic year, 1.3 million patrons passed through Belk Library's doors.
Read the full story to learn more.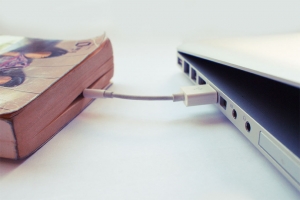 Tags: