Appalachian State University has deeply rooted traditions in education. Our reputation for preparing quality educators as well as our commitment to student and alumni success contributes to the value of an Appalachian education.
Appalachian's Reich College of Education celebrates Education Week October 16-21, 2017.
Education Week #FIRSTTEACH Instagram Contest
Appalachian teachers are passionate and compassionate. They are called to sustain education within their communities and to inspire the next generation of teachers. You have what it takes to be the kind of teacher who changes lives and inspires imagination. Two million kids are waiting for you. But, first, your journey starts right here. BE FIRST. BE AN APP STATE TEACHER.
Enter our Education Week #firstteach Instagram Contest:
How: Follow appstatercoe on Instagram.
What: Share a photo of yourself and tell us how you will #firstteach in the classroom after graduation. Tag us (@appstatercoe) and use #firstteach.
When: Post during Education Week (October 16-21, 2017).
Win: One person will be randomly selected to win a #firstteach prize pack.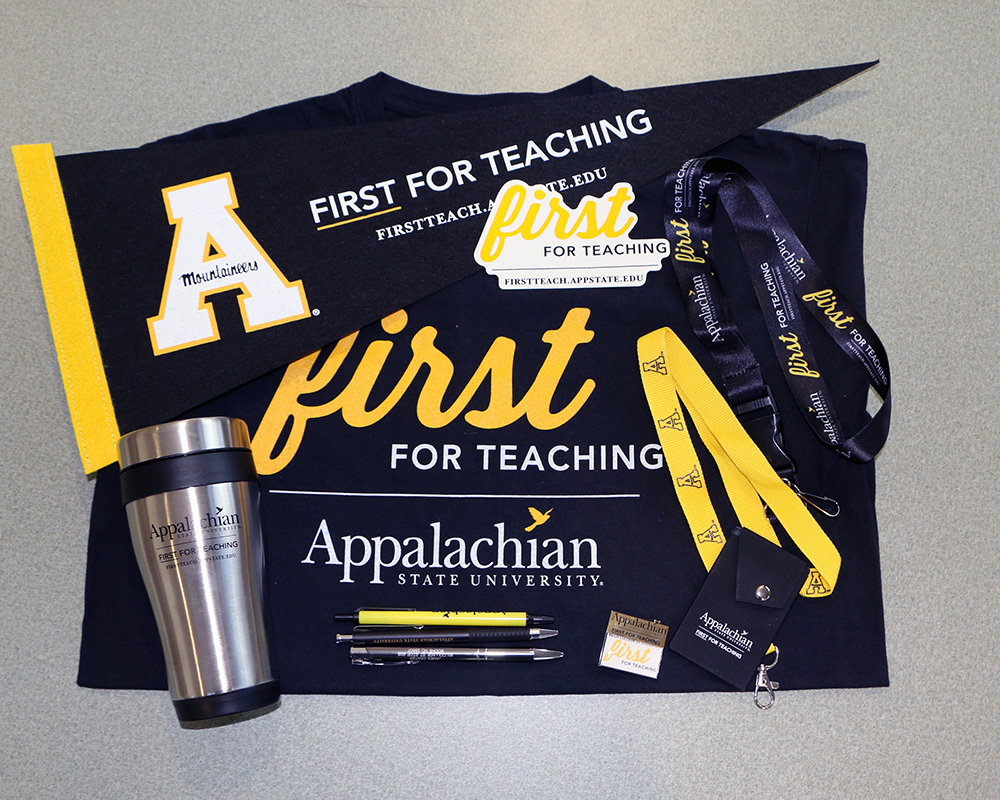 Education Week Events
Education Career Fair

Education student? Looking for a career in education? The Career Development Center is hosting an Education Career Fair:
Date: Monday, October 16, 2017
Time: 12:30 pm - 2:30 pm
Location: Holmes Convocation Center
Education Day Football Game

Appalachian State University Football vs Coastal Carolina at the Education Day football game.
Date: Saturday, October 21, 2017
Time: 3:30 pm
Location: Kidd Brewer Stadium
Education Week Professional Development for Students
Personalized Instruction for Students with Brittany Guy '08 '10, Personalized Learning Coordinator-Winston Salem/Forsyth County Schools
Since the inception of public education, the outcomes needed of our graduates have changed greatly. This session will provide an introduction to the concept of personalized learning as a possible solution to meet those needs. Shifts in the world around us have given us immediate access to data and content enabling personalized learning as a structure to support best practices seamlessly. Meeting the needs of each student while providing them choice in their learning seems great in theory but daunting as a task.
Date: Monday, October 16, 2017
Time: 2:00 pm
Location: RCOE 124A
Assessments for Learning with Cathy Barlow '97 '09, Assistant Principal-Hibriten High School, Caldwell County Schools
Participants will learn about the ways to create assessments that will provide data to drive instruction.
Date: Tuesday, October 17, 2017
Time: 3:30 pm
Location: RCOE 321
Digital Data Walls Development and Progression with Jennifer Hawkins '02, Principal-Table Rock Middle School, Burke County Schools
Recently Burke County Schools had the vision to have data walls at all schools. As part of that expectation, digital data walls have evolved. The information was limited when we first started, but it has definitely progressed.
Date: Wednesday, October 18, 2017
Time: 4:00 pm
Location: RCOE 013
Teaching Vocabulary with Jennifer Lynde '98, Director of Curriculum Instruction-Davie County Schools
Learn more about the importance of vocabulary instruction, as well as, participate in engaging activities that teach student strategies and techniques for learning new vocabulary.
Date: Thursday, October 19, 2017
Time: 3:00 pm
Location: RCOE 321
Increase Higher-Order Thinking and Engagement (without any extra on your part) with Sarah Huff '10, Lead Instructional Math Coach-Neal Middle School, Durham Public Schools
Teacher Talk Moves are a quick and easy way to increase engagement while promoting higher-order thinking as you directly instruct your students.
Date: Friday, October 20, 2017
Time: 4:00 pm
Location: RCOE 124A
Tags: