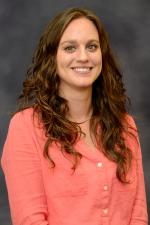 Meet Jennifer Walker.
Jennifer graduated in 2014 with a dual master's degree in Business Administration and Higher Education with a concentration in teaching. Having received her undergraduate degree in 2007 in Communications from Appalachian, Jennifer moved to Chapel Hill to pursue a career in graphic design and marketing.
"I loved my job, but I wanted something more," said Jennifer. "After some reflection, I decided that I wanted to teach in higher education. Because I attended Appalachian for my bachelor's degree, I knew that the Reich College of Education (RCOE) had a wonderful reputation for preparing future educators, and I decided to go."
Once arriving back at Appalachian, she decided to also pursue her master's degree in business administration because she was interested in teaching that subject. Jennifer took a position as a Business Administration instructor at Nash Community College before she even graduated. Many of her classes in the RCOE assisted in making her the educator she is today.
"I had several classes that I enjoyed in the Higher Education program, and one of them was 'College and University Teaching'. This opened my eyes to the various teaching and learning styles, including active learning and how to incorporate various aids to improve the learning environment of my classes."
Jennifer is really enjoying the career she has chosen in the community college setting and feels that the RCOE prepared her well. She describes the real world as "amazing, treacherous, and enlightening" and believes that teaching changes you. She finds herself pulling for the students that were told that they would never succeed.
"You may have the student who truly embraces education, but just can't figure out how to make the finances work, or you may have a student that has a full-time job and three kids, but amazes you with the quality of work and effort that is being given. These are the students that keep you going," said Jennifer.
Jennifer does not have much free time, but when she does, she enjoys cooking, reading, running, and playing with her dog, Sadie. She is the co-advisor for the Gamma Beta Phi Honors Society at Nash Community College, which has allowed her to become more involved with the students and the community. A self-proclaimed continuous learner, Jennifer has started to research professional development opportunities and activities in the area.
"Never stop learning," said Jennifer. "There is a constant motion and change in education and the world around us. Staying informed will not only make you a better educator, but will also make you a more informed person."
When asked to give advice to current students, she had a great response: "Use your time at the Reich College of Education wisely. You have so many resources, many that are free, at your fingertips. Talk to your professors and build relationships with each one – their experience and guidance may be just what you need to be successful."
Jennifer is constantly working to make the world a better, more educated place – one student at time. Nash Community College also highlighted Jennifer as a new faculty member. Follow the link to watch Jennifer in the classroom!