Each of the 80 schools in the Winston-Salem/Forsyth County district welcomed students back with celebrations and cheers on Monday as more than 55,000 students started the 2018-19 school year.
Monday was also the first school day at Appalachian State University Academy at Middle Fork, or the Academy, which was formerly a WS/FCS elementary school.
Middle Fork is one of nine laboratory schools across the state, each of which will be run by an education college in the UNC system. The colleges will control the curriculum and management of the schools, all of which were selected for the program because of low performance in recent years.
The Academy had approximately 300 students enrolled on the first day of school, Principal Tasha Hall-Powell said. They're hoping to increase that number to 315.
"Well, we've had a great opening," she said. "Everybody's excited, happy. Kids came in ready and our teachers were very prepared, so it was a great first day."
Amie Snow, director of curriculum at the Academy, said they are fully staffed on the first day of school.
"I'm really excited for everything that we're going to be able to do here," she said. "I think the teachers are ready to start to get into the curriculum."
Appalachian State Chancellor Sheri Everts will visit the Academy on Thursday, and will hand out books and read to the students.
Read the full story to learn more.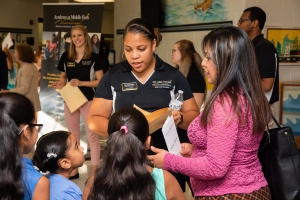 Tags: