Drs. Geri Miller (HPC) and Glenda S. Johnson (HPC) have published a "Knowledge Share" article titled "The use of evidence-based practices with oppressed populations" in Counseling Today. The article was co-authored by alumni Mx. Tuesday Feral '17, William Luckett '16 and Madison Ericksen '17, along with current student, Kelsey Fish.
Feral, Luckett and Ericksen all graduated from the clinical mental health counseling (CMHC) master's program in Appalachian's Department of Human Development and Psychological Counseling. Fish is currently completing the CHMC program. She graduates in December 2018. For these Appalachian students, this is their first publication.
About the Article
The following is an excerpt from the article:
Therapy must always be tailored to the individual; there is no one-size-fits-all model. However, certain approaches have been empirically verified for use with a variety of clientele. It is critical that all counselors, especially those working with client populations that are oppressed, have both an overview of evidence-based practices and specific techniques related to these approaches in their clinical toolboxes to help them provide the best counseling services possible.

Counselors are frequently required to use evidence-based practices and need to know how to use them effectively in counseling clients who are oppressed. Specifically, the unique development of the therapeutic relationship between oppressed clients and privileged clinicians must be understood and addressed. Multicultural counseling experts Derald Wing Sue and David Sue maintain that the dynamics of oppression shift the influence of the therapeutic relationship. Thus, counselors must alter their application of evidence-based practice techniques.
Per the Counseling Today website, "Knowledge Share articles are developed from sessions presented at American Counseling Association conferences." Miller and Johnson along with Feral and Luckett gave a presentation titled "Use of Evidence-Based Practices with Oppressed Populations" at the 2017 American Counseling Association (ACA) Conference & Expo, which was held March 16-18, 2017 in San Francisco, California and a follow-up presentation at the 2018 ACA Conference & Expo, which was held April 26-29, 2018 in Atlanta, Georgia.
About the Authors
Geri Miller is a professor in the Department of Human Development and Psychological Counseling (clinical mental health counseling track) at Appalachian State University. She is a licensed professional counselor, licensed psychologist, licensed clinical addictions specialist and substance abuse professional practice board certified clinical supervisor. She has been a volunteer counselor at a local health department since the early 1990s. Her clientele has primarily consisted of women with little opportunity for jobs or education and who experience barriers of poverty.
Glenda S. Johnson is an assistant professor in Appalachian's Department of Human Development and Psychological Counseling (school counseling program). She is a licensed professional counselor and a licensed school counselor in North Carolina. Her scholarly focus includes school counselors delivering comprehensive school counseling programs, students who are at risk of dropping out of high school and the mentoring of new counseling professionals.

Mx. Tuesday Feral received their master's degree in clinical mental health counseling and a certificate in systematic multicultural counseling from Appalachian. They are the support programs director for Tranzmission, a nonprofit organization serving the Western North Carolina nonbinary and transgender community through education, advocacy and support services. Tuesday offers training and workshops in trans cultural competence and cultural humility on local, state and national levels.

William Luckett received his master's degree in clinical mental health counseling from Appalachian with a certificate in addictions counseling. He has interests in somatic therapy approaches, mindfulness, religious and spiritual topics in counseling, and substance abuse counseling. He currently provides in-home counseling to rural families in Virginia.

Kelsey Fish is a student in Appalachian's clinical mental health counseling program and a clinical intern with Daymark Recovery Services in rural Appalachia. Her clinical interests include expressive arts therapy, adolescents, and gender and sexual minority issues.

Madison Ericksen is a graduate of the clinical mental health counseling program at Appalachian. She has specialized training and interest in trauma-informed practices that use mindfulness, eco-based and expressive art therapies as complementary treatments alongside traditional therapy. She provides strengths-based and resiliency-focused outpatient counseling for children and families.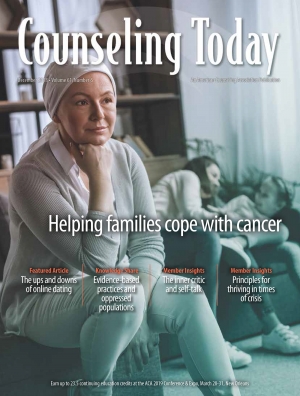 Tags: