Dr. Barbara Howard is an associate professor in the Leadership and Educational Studies department. Dr. Herb Brown is a professor in the Curriculum and Instruction department.
Professors can have a difficult time planning to co-teach a course with a colleague in another department: orchestrating schedules, arranging funding, coordinating lecture slots, developing complementary lesson plans. Imagine the audacity of Dr. Barbara Howard's vision to team teach with a faculty member in another country. Howard wanted to remain on campus at Appalachian State University, while Dr. Natalia Ilyashenko would stay planted at her home institution … Novgorod State University in Russia.
Speaking to a packed audience at the 2019 Digital Learning Initiative (DLI) Symposium, Howard and fellow Mountaineer, Dr. Herb Brown, explained how they used an assortment of technologies to pull off this teaching feat.
Read the full story to learn more.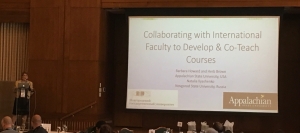 Tags: