Winston-Salem/Forsyth County Schools
March 6, 2018
On Friday morning, Middle Fork parent Argrear Walker came to read students as part of the school's Read Across America celebration.
"I always want my kids to know I am involved in their education," Walker said.
Her daughter Brihanna Brown is a fourth-grader at Middle Fork. Walker also has two older daughters, and reading has been an important part of their lives, she said. Everyone routinely reads together.
For her visit to Middle Fork, Walker was reading to several classes in addition to her daughter's, and she was planning to read one of her favorites – The Cat in Hat by Dr. Seuss – to the younger students.
"That's a classic," Walker said.
Walker had lots of company at Middle Fork that morning. Readers included more parents, people from the Forsyth County Sheriff's Department, and Eric Groce, a Professor of Elementary Education at Appalachian State University, who had come down for the morning.
Read the full story to learn more.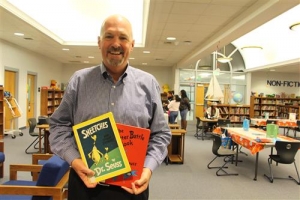 Tags: