John Henson, adjunct instructor in the Department of Curriculum and Instruction and educational leadership doctoral student, has been named the National Association for Media Literacy Education (NAMLE)'s M-Passioned Member for June 2017.
NAMLE is a national organization dedicated to media literacy. M-Passioned members are asked the same five questions:
What do you do?
Tell me about your latest work or project in media literacy.
Why is media literacy important to you?
What are you most excited about in the media literacy field?
Why did you become a NAMLE member, what benefits do you see to membership, and how will it support your work?
Henson's answers explore the courses he teaches at Appalachian as well as his dissertation research.
The following is an excerpt from Henson's feature.
What do you do?
I have the pleasure of teaching courses in teacher preparation and media studies in the Reich College of Education at Appalachian State University. I teach a class called Teaching and Learning in the Digital Age, where future teachers explore innovative practices for using technology in the classroom, as well as ways to weave media and popular culture throughout their curriculum. In addition, I teach courses in photography, video production, and web design in a media studies minor where students from a range of majors and backgrounds explore technical and aesthetic production techniques for storytelling. In combining these areas, I am beginning a new role as faculty advisor for media production through our Media Lab, where I'll assist faculty in integrating media production tools and techniques into curriculum design, class activities, and research. Finally, I am a current doctoral student studying educational leadership. For my dissertation research, I am preparing an investigation of the communicative and mythological qualities of grassroots media making.
Please read the full feature to learn more.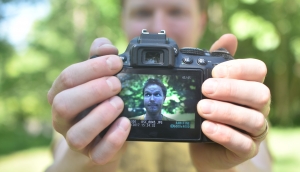 Tags: