We all have preconceptions in life. Predetermined ideas of what is right and wrong based on our own upbringing, faith or lack of it, and individual life experiences. Preconceptions in and of themselves are not necessarily a bad thing, but sometimes challenging them can soften hearts and lead to opportunities for love and grace.
Few people have borne witness to more changed hearts during moments of crisis than Melanie Childers, the Director of Pastoral Care at Appalachian Regional Healthcare System (ARHS). For more than 20 years her ministry has allowed people of all faiths to feel safe and spiritually cared for while receiving their medical treatment in the High Country.
A Family Affair
Melanie was born and raised with classical and sacred music in her veins. Her father, Terry, served as the music minister at their church near their home in Concord, NC. Her mother, Betty, served as the church organist and together they managed all eight of the church choirs, including Melanie's personal favorite, the hand-bell choir.
Each morning Melanie would wake up early to read her Bible, write in her journal and practice the piano before heading out the door to go to school. "I put myself on a disciplined regimen as a child," she said with a grin. "Before I graduated high school, I read through the Bible seven times and I wrote my way through a stack of spiral-bound notebooks. I always considered my journal to be my personal sanctuary, my private place to pour out how I was really feeling about life, relationships and faith."
Although she enjoyed playing the piano, Melanie refers to herself as the black sheep in the family. "My two younger brothers, Brian and Jason, also shared my parents' affinity for music and they went on to enjoy successful careers in it. I love music too, but I was called to take a different path."
Melanie felt called into ministry at an early age. She took the initiative to pray, memorize scripture and to make her own profession of faith at seven years old.
She also managed to skip the stereotypical "preacher's kid" stage of rebellion. Rather, her only complaint came at the hands of her parents, who insisted that she wore a traditional dress each week for church. A rule she loathed, but reluctantly followed in order to keep the peace.
"Sunday evening was my favorite night of the week," she said. "My father would order pizza after service and we would all unwind together in front of the TV, watching M*A*S*H and Murder, She Wrote."
Read the full story to learn more.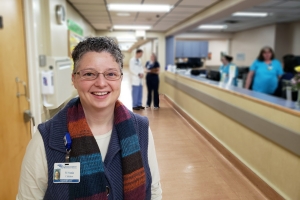 Tags: