Andrew Koricich, an assistant professor with the Higher Education Program (LES), was interviewed for the article.
The sunrise in rural central Michigan reveals a landscape of neatly divided cornfields crossed by ditches and wooded creeks. But few of the sleepy teenagers on the school bus from Maple Valley Junior-Senior High School likely noticed this scene on their hour drive to Grand Rapids.
They set out from their tiny school district of about 1,000 students, heading to the closest big city for a college recruiting fair. About 151 colleges and universities were waiting.
The students, from Nashville and Vermontville, Mich., were going to the recruiters because few recruiters come to see them.
For urban and suburban students, it's common to have college recruiters visit their schools — maybe they set up a booth in the lunchroom, or talk with students during an English class. But recruiters rarely go to small, rural schools like Maple Valley, which serves fewer than 450 seventh- through 12th-graders.
"When we think about an urban high school, a college recruiter can hit 1,500 students at a time," says Andrew Koricich, a professor of education at Appalachian State University. "To do that in a rural area, you may have to go to 10 high schools."
Rural households also have lower incomes than urban and suburban ones, the Census Bureau reports, meaning that rural students are less profitable for colleges, which often have to offer them financial aid.
"People tend to overlook the rural areas. I think it's kind of disappointing because some able students could get looked over," says David Hochstetler, one of the Maple Valley students riding the bus to Grand Rapids. He's interested in pursuing engineering or computer science in college.
One recent study by researchers at UCLA and the University of Arizona found public high schools in affluent areas receive more college recruiter visits than schools in less affluent areas. Those researchers also found recruiters from private colleges concentrate disproportionately on private schools. Rural areas usually have neither wealthy families nor private schools.
David Morrow, principal of St. Francis Community Junior/Senior High School in the northwestern corner of Kansas, says only a few public regional institutions visit his combined middle and high school of about 130 students. Kansas State University visits, but in the last five years, the University of Kansas visited the school only once.
In Sparta, Ga., just a few regional institutions visit the 230-some students at Hancock Central High School, according to counselor Carlton Stewart. The University of Georgia doesn't come, Stewart says, and Morehouse College only recruits for a summer program for high schoolers, not for admission.
This anemic outreach is among the reasons comparatively low numbers of high school graduates from rural areas end up in college the following fall — 59 percent, compared to 62 percent of urban and 67 percent of suburban high school grads, according to the National Student Clearinghouse, which tracks this.
At Maple Valley, graduation rates are above the national average, but only 45 percent of Maple Valley's 2018 graduates enrolled in college.
Read the full story to learn more.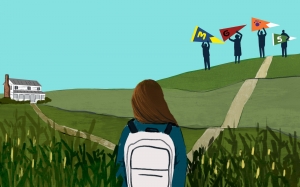 Tags: