Kari Riddle is a 2018 alumna.

Parkway School third-grade teacher Kari Riddle was recently named the Watauga County Schools Rookie Teacher of the Year.
WCS started the inaugural award this school year. Like the school system's longstanding Teacher of the Year awards, rookie teachers are selected by their peers for the honor. To be eligible for the award, a teacher must be in his or her first year of teaching in a full-time position.
Riddle earned her elementary education degree from Appalachian State University and is currently working toward a master's degree in reading education, according to Parkway School.
"I am so excited to be working at such an amazing school in such a fantastic school system," Riddle stated on the school's website. "I hope to inspire my students to have a love for themselves, learning and their community. I am sure I will continued to be inspired along the way too."
Read the full story to learn more.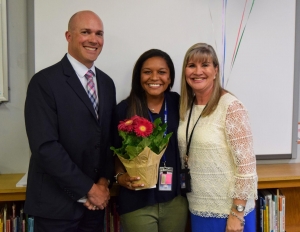 Tags: