Appalachian research, community support culminate in marker at African-American cemetery...
About 50 people gathered for the unveiling of a historic marker at the Old Boone Cemetery on Sunday, Oct. 1. The cemetery contains the graves of over 160 African-Americans which had laid nearly forgotten in the open field behind Appalachian State University's Cone Residence Hall.
"We were thrilled with the marker. One of the main goals of the project was that we would let people know that the cemetery was there," said local resident and alumna Roberta Jackson '91, who has relatives buried there. "There were people there that needed to be reverenced. That's their burial site."
Jackson is a founding member of the Junaluska Heritage Association, which led the project to place the marker on site. She said she was impressed with the work of students and professors at Appalachian's Department of Geology (now called Department of Geological and Environmental Sciences) and Department of Anthropology, who used ground-penetrating radar and an electrical resistivity system to confirm the location of the African-American graves in the cemetery in 2007 and 2010. Before their work, only two well-marked graves could be identified.
The Junaluska Heritage Association works to preserve the only remaining African-American community in Watauga County. Jackson said that the $5,000 raised for the marker was embraced by individuals, Appalachian students and community organizations.
The marker lists the names of 65 people researchers have discovered were interred there. But, Jackson said, the cemetery has importance beyond those buried there – it is a community treasure.
Read the full story to learn more.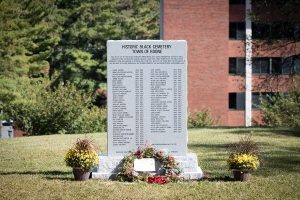 Tags: