As some teachers leave the classroom in North Carolina, Reich College of Education continues to attract steady numbers to the "First in Teaching" mission at App State, especially through Teacher Education Preview Day.
During the preview day on Saturday, newly admitted high school seniors and transfer students caught a glimpse of what life is like as one of the 700 admitted applicants to the RCOE.
Recruitment committee chair for Appalachian Educators and sophomore education major Samantha Sweet said she enjoyed planning the day's events, and addressing the negative stigma about teaching that is broken at App State with student-professor relationships.
"The people in the College of Education genuinely care about you," Sweet said. "They are obviously there, they care about your education and they want you to become the best teacher that you can be."
The day also highlighted the many reasons why RCOE claims it is one of the top schools for teaching, having the most National Board Certified alumni in the nation.
RCOE Dean Melba Spooner explained to students why App State values grooming teachers through the Reich College of Education.
Spooner said the "First for Teaching" phrase used in RCOE isn't just a slogan, but a belief among faculty and staff.
"We truly believe, and we live the importance of helping learners realize their full potential," Spooner said.
Read the full story to learn more.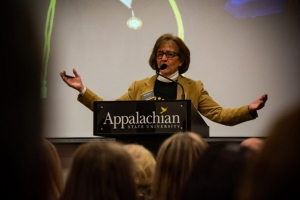 Tags: