For Logan Marie Poplin, learning to read hasn't been easy.
"She struggles in reading," said her mother, Shawnie Poplin.
So it's no surprise that reading hasn't been Logan Marie's favorite thing to do.
"I don't like reading – I never have," said Logan Marie, who will be in the second grade at Sedge Garden Elementary.
When her mother heard about the Summer Reading Clinic at Appalachian State University Academy at Middle Fork, she thought it would be good to have her daughter participate.
"I figure it will give her an edge in school," Poplin said.
Logan Marie's opinion of reading is definitely changing for the better.
Just that morning, Poplin said, Logan Marie had volunteered to read one of the books that had been sent home with her.
And, when asked what she thought about the Summer Reading program, Logan Marie's response was enthusiastic.
"Fun!" she said.
It's easy to see how the Summer Reading program would transform the experience of reading for the students taking part. For one, they're getting one-on-one attention.
The Winston-Salem/Forsyth County teachers in the program are working with one or two students at a time. This allows them to find and focus on the approaches that best meet each child's needs.
All the teachers participating in the clinic are working on their master's degrees in Reading Education at Appalachian State.
"They are really trying to working on their craft," said Amie Snow, the Instructor for the clinic and the Director of Curriculum and Instruction at Middle Fork. "The teachers have worked really hard, and they have learned a lot."
With several other teachers who have already completed those degrees serving as supervisors, the teachers working with the students are also getting lots of focused attention.
"It's helping everybody," Snow said.
Read the full story to learn more.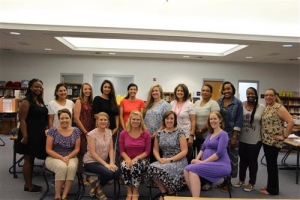 Tags: