Appalachian hosts 21 international educators enhancing their teaching skills...
The Teaching Excellence and Achievement program (TEA), now in its seventh year, brings teachers from other countries to Appalachian State University to enhance their skills in teaching science and English as a foreign language.
About 140 international teachers have participated during the TEA program's seven years at Appalachian.
From mid-September through Oct. 30, this year's TEA Fellows are in the High Country learning about:
student-centered teaching approaches that are highly engaging
project-based teaching
instructional design and assessment
teacher-leadership throughout their careers
The TEA Fellows spend four weeks on Appalachian's campus engaged in discipline-specific workshops. Then, they spend two weeks teaching in regional schools alongside a U.S. partner teacher.
Read the full story to learn more.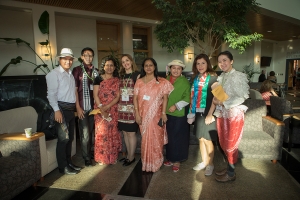 Tags: