On February 27 and 28, twenty teachers were chosen to come to Appalachian State University to participate in a "Project Based Learning Workshop."
This workshop was taught by Elizabeth Joyce, digital learning specialist at the North Carolina Center for the Advancement of Teaching (NCCAT), a teacher learning retreat center in Cullowhee, NC. The workshop was funded by a Public School Partnership mini-grant written by Avery County teachers.
Workshop participants:
Learned to use technology effectively in the classroom to promote 21st century skills
Identified ways to enhance learning through research, communication, and collaboration
Designed a Project Based Learning (PBL) unit plan while attending the workshop.
Teachers often think projects take too much time to plan or do not know how to align them with curriculum. PBL projects are a solution - these projects:
Are an effective and enjoyable way for students to learn
Allow students to work as a team
Encourage students to reflect and ask questions
Build confidence by getting students to work with a purpose, problem solve, and learn time management.
PBL projects assist in investigating essential questions, unit questions, and content questions. Participants in this workshop returned to their classrooms with a PBL unit they created - one that will excite and engage their students as they claim ownership of their learning.
Pictured: Workshop participants engaged in a "Marshmallow Challenge." They had 18 minutes to build a freestanding tower. The marshmallow had to be on top. They had string, tape, and 20 spaghetti sticks.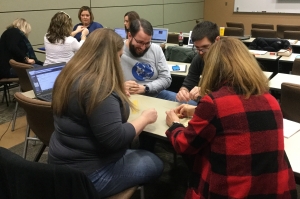 Tags: