On Friday, November 19, 2021, Reich College of Education's (RCOE) Appalachian Community of Educators Scholars (ACES) celebrated 36 students who are graduating with their bachelor's degree in either December 2021 or May 2022. Housed in the RCOE's James Center for Student Success and Advising, ACES is a four-year scholars program for future teachers focusing on mentoring, leadership, service, and professional development.
Each of the senior ACES was recognized for their accomplishments in the program and at Appalachian State University.
RCOE Associate Dean Dr. Terry McClannon welcomed the seniors and their families and friends. Former Assistant Director of the James Center Megan Kasper shared congratulatory remarks.
Audrey Jones '20, a seventh grade social studies and science teacher at Parkway School and the 2020-2021 Watauga County School Rookie Teacher of the Year, was the ACES alumni speaker. She reminisced on her time in ACES and offered encouragement to the seniors as they begin student teaching or their first year as educators.
Nominated by her peers to speak, English secondary education major Lauren Rowe, from Huntersville, North Carolina, shared how she had found a home here at App State and in the ACES program.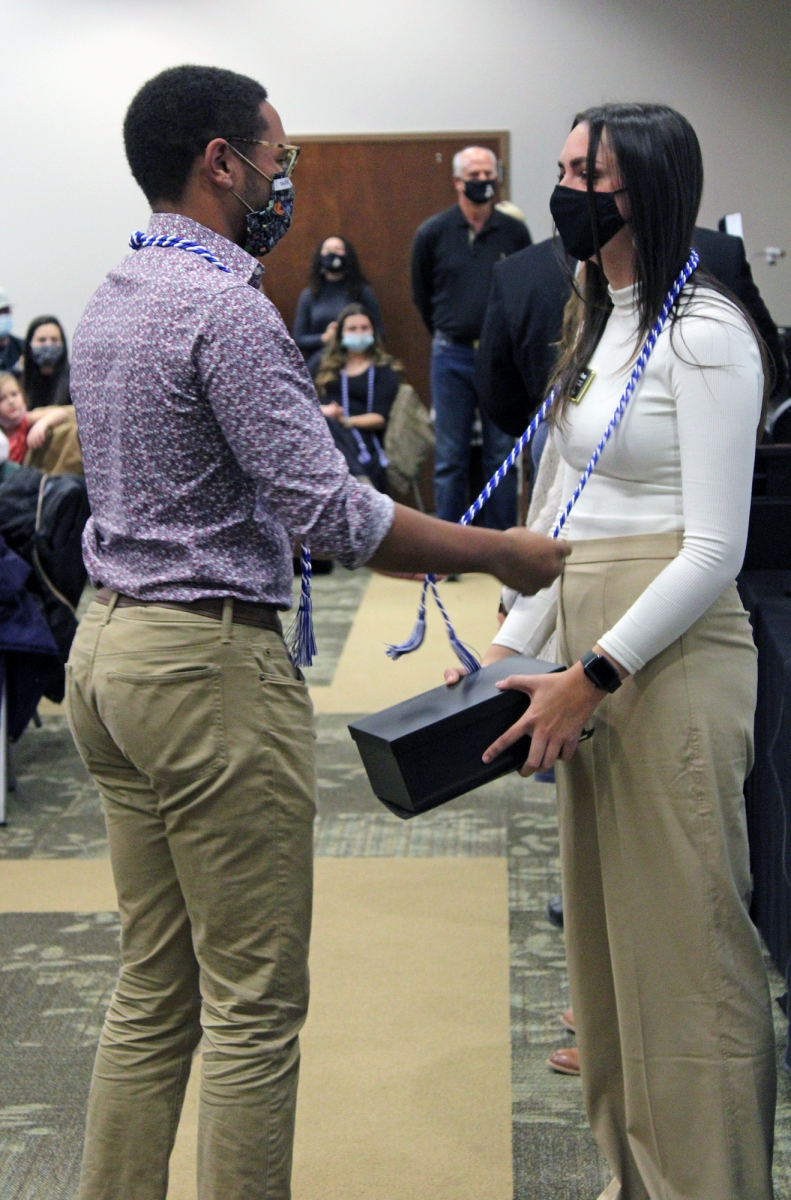 Senior ACES Hudson Miller cords fellow senior ACES, Lauren Rowe. Photo submitted.
Each senior chose someone - a family member, friend, or professional mentor - who had impacted their time in the ACES program and at App State to place their graduation cord on them.
In addition to the graduation cord, students also received a certificate and a "sunshine" memory box. The memory box included a letter they wrote to themselves during their first week in the ACES program as well as other mementos.
"ACES has meant friendship," said Clare Daggs, a special education major from Winston Salem, North Carolina. "From move-in and our first-year retreat to senior year and student teaching, I have experienced all of college with the friends I met through ACES."
"This program has shaped my college experience through intentional relationships, professional developments, and community outreach," she added.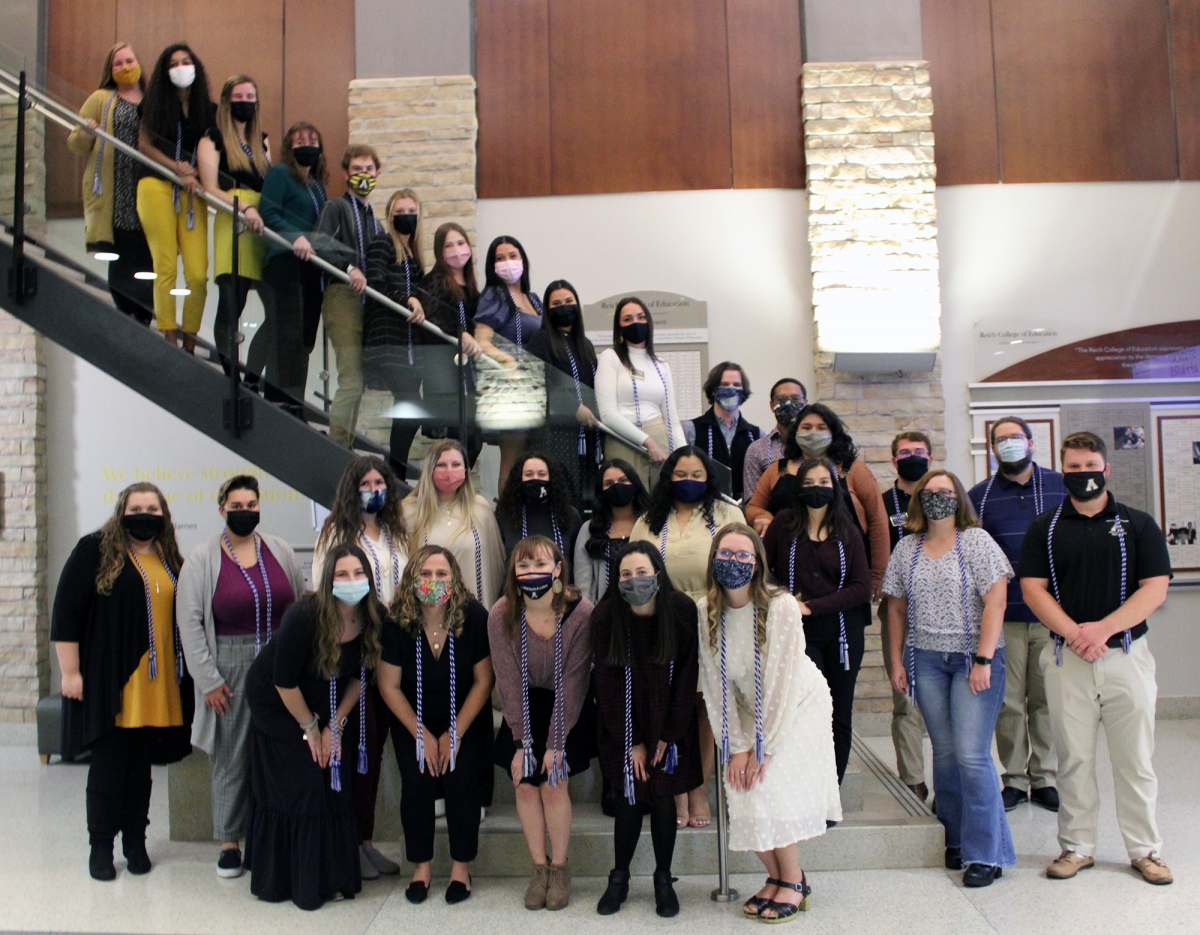 The seniors recognized during the 2021 Senior Awards Ceremony:
Morgan Anderson, Elementary Education
Brett Baker, Health and Physical Education
Alexis Barber, Elementary Education
Berenice Blanco-Rodriguez, Elementary Education
Ryan Carter, Mathematics Secondary Education
Katherine (Kate) Clifford, Elementary Education
Ashley Connor, Elementary Education
Clare Daggs, Special Education
Kate Duran-Rivera, Middle Grades Education
Rachel Estes, Special Education
Emma Everson, Special Education
Jasmine Garcia, Spanish Education
Michael Gautier, English Secondary Education
Katie Hayes, English Secondary Education
Maggie Beth Heavner, Special Education
Nicole Hernandez, History
Erin Holtzapple, Elementary Education
Kylie Howell, Special Education
Elizabeth (Liz)Jenkins, Child Development Birth-Kindergarten Education
Michael Joseph, Sociology
Gracie Key, Middle Grades Education
Alexis Lail, English Secondary Education
Karlee Lambert, Elementary Education
Kira Laws, Mathematics Secondary Education
Max Libera, History Social Studies Education
Thomas McNeill, History Social Studies Education
Mitchell (Mitch) Michaels, History Social Studies Education
Hudson Miller, Elementary Education
Candace Myers, English Secondary Education
Alex Olinger, Elementary Education
Lauren Rowe, English Secondary Education
Carrie Semke, Elementary Education
Kailey Seward, Mathematics Secondary Education
Sarah Turner, Theatre Arts Education
Simeon Wallace, Music Education
Kathryn Watson, Mathematics Secondary Education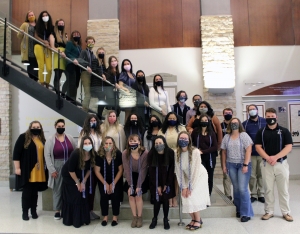 Tags: