On Friday, November 22, 2019, Reich College of Education's (RCOE) Appalachian Community of Education Scholars (ACES) celebrated 39 students who are graduating with their bachelor's degree either December 2019 or May 2020. ACES is a 4-year scholars program housed in the RCOE's James Center for Student Success and Advising for future teachers focusing on mentoring, leadership, service, and professional development.
Students heard from two of their peers: Hunter Koch, an art education major from Pittsboro, North Carolina, and Dorothy Williams, a middle grades education major from Tallahassee, Florida. The event also included an alumni speaker, Benjamin Brown '19. Brown received his B.S. in career and technical education, and he is currently an agriculture education teacher for Watauga County Schools. All the speakers noted their connection and bonds the ACES program gave them.
"Senior awards night celebrated the accomplishments of our class, but it also allowed us to reflect on our experiences and our time together over the past four years," said Savannah Washco, an elementary education major from Hickory, North Carolina.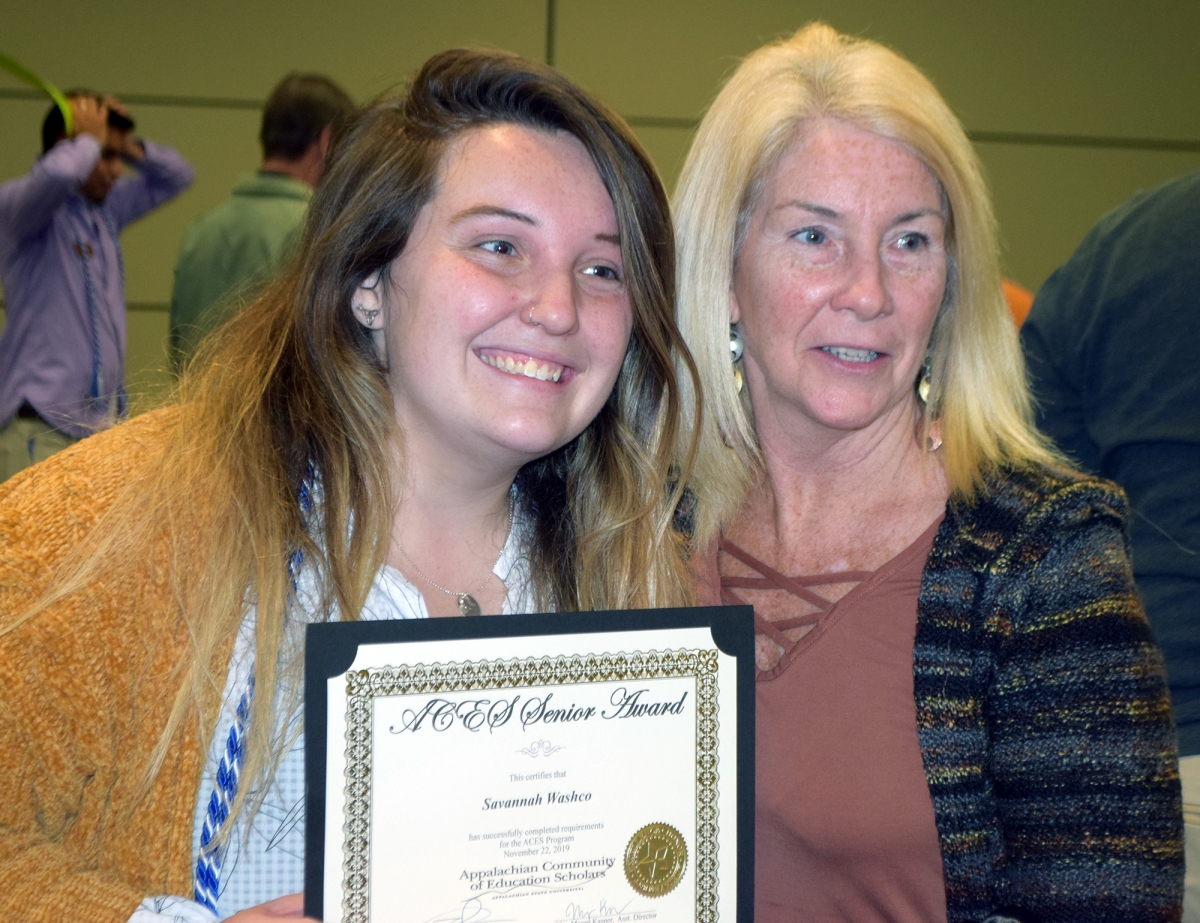 Savannah Wascho, elementary education major, smiles with her mom after receiving her ACES diploma and cord. Photo submitted.
Ike Smith, Director for the James Center for Student Success and Advising, along with Megan Kasper, Assistant Director for Student Engagement; Melissa Isaacs, University Program Associate; and Libby Rose, Graduate Assistant, presented each of the senior ACES with their honor cord, certificate, and a memory box. Students identified a faculty, staff, student, or family member who supported them through their education to place the honor cord on them.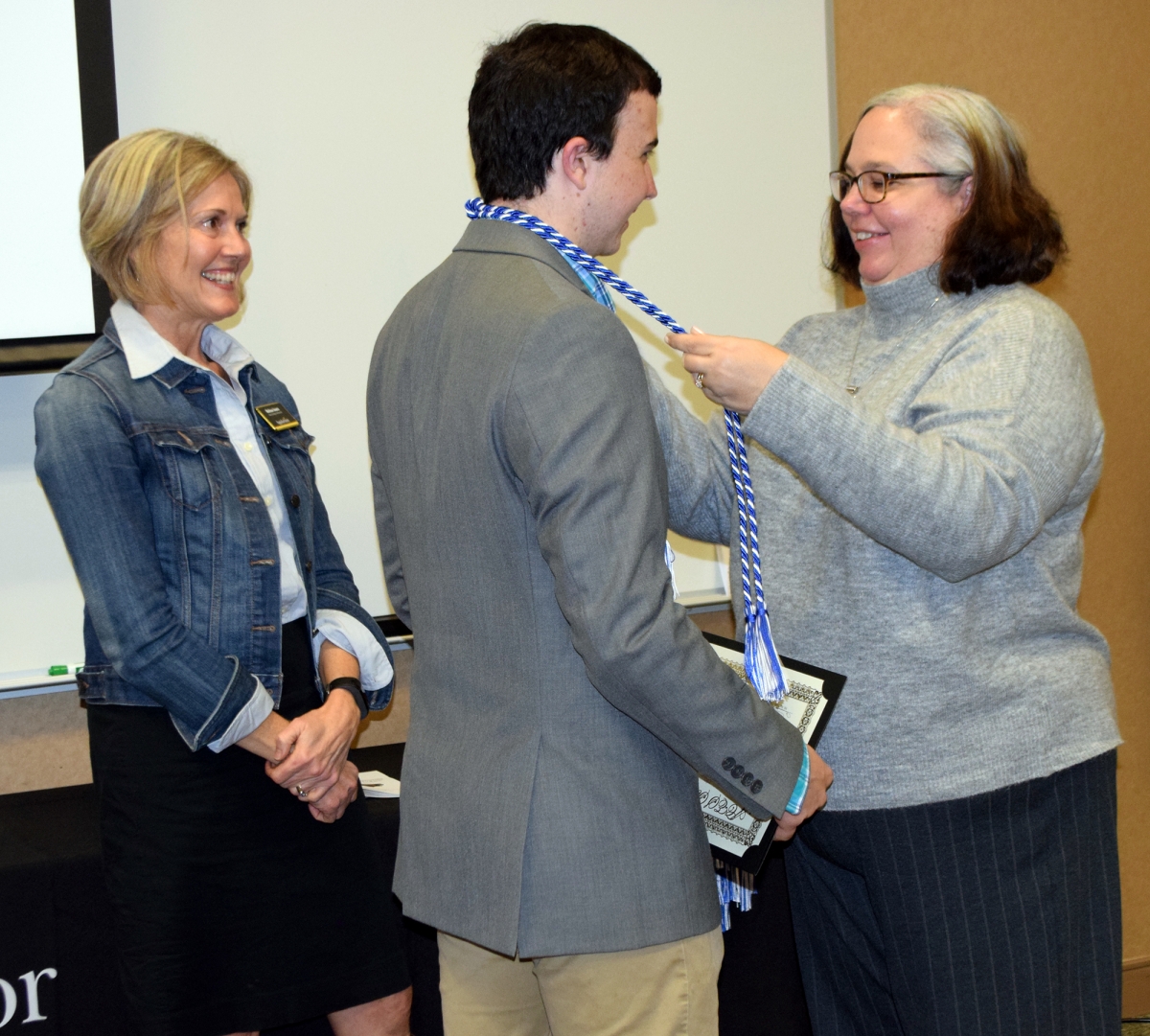 Robert Hinchliffe, elementary education major, smiles as his mother places his ACES cord on him. Photo submitted.
"We recognize that success doesn't happen alone," said Kasper. "Therefore, we wanted to also celebrate individuals who have provided support to ACES students during their time at Appalachian."
Washco noted, "It was a night of lots of laughter, smiles and happy tears. ACES is a lot of work, but it has brought me friendships that I know will last for the rest of my life."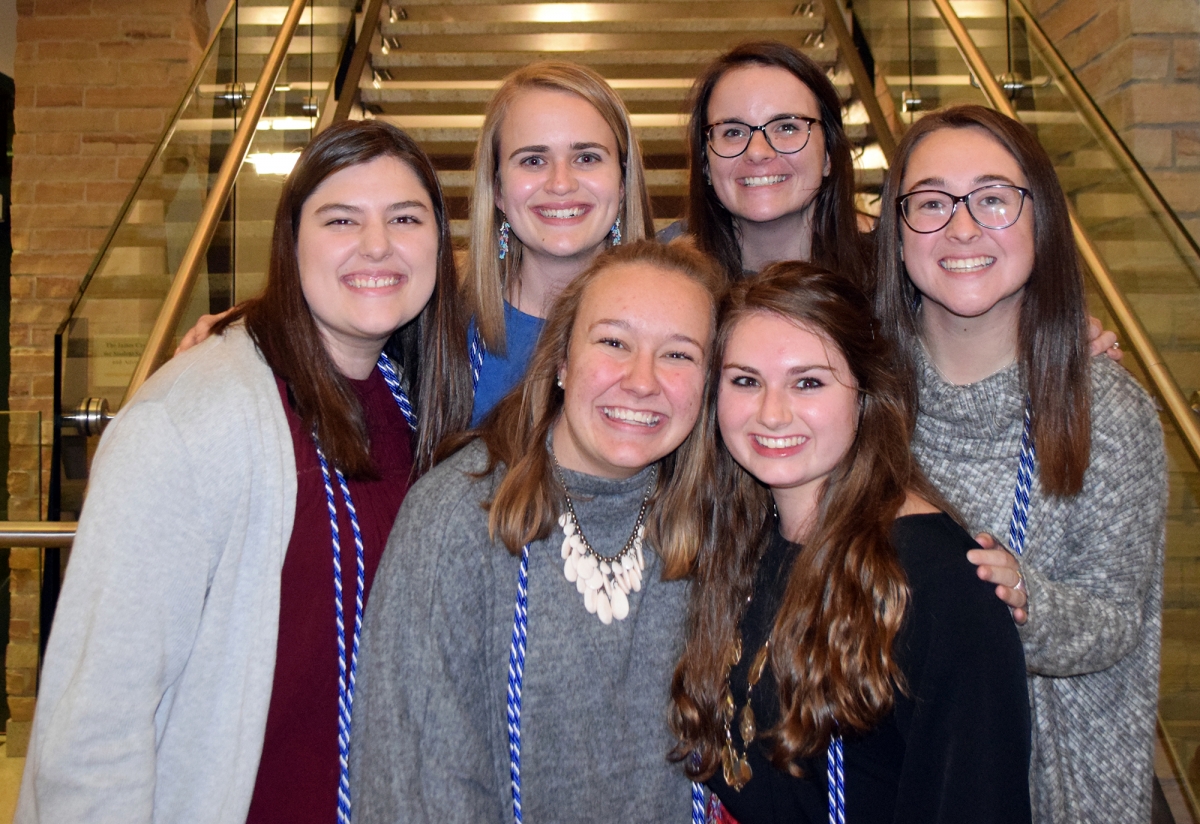 Alyssa Parsels, elementary education major; Rebecca Boyles, elementary education major; Audrey Jones, middle grades education major; Aliyah Tuckman, special education major; Abigail Chapman, elementary education major; and Mariann King, elementary education major, are all smiles after the ceremony. Photo submitted.

Tags: