On Thursday, March 28, 40 members of the Appalachian Community of Education Scholars (ACES) program awoke bright and early to board an App State bus bound for Washington, D.C. The sleepy students were excited for the professional development, enrichment, and community building that awaited them at the end of the six-hour journey.
Megan Kasper, Assistant Director for Student Engagement in the Reich College of Education's (RCOE) James Center for Student Success and Advising, described the experience: "This enrichment trip allows ACES students to network and collaborate as a learning community and exposes them to unique pedagogies and resources that they can apply to future coursework and in their future classrooms."
The students, along with James Center staff members, arrived at PBS headquarters in Arlington, Virginia, around lunchtime to attend presentations on all of the unique resources for educators that the broadcasting service offers.
Presenters shared valuable information, including:
free web resources at PBS LearningMedia

ideas for incorporating television shows from PBS Kids into interdisciplinary lesson plans

tips for involving students' families in the classroom

And more.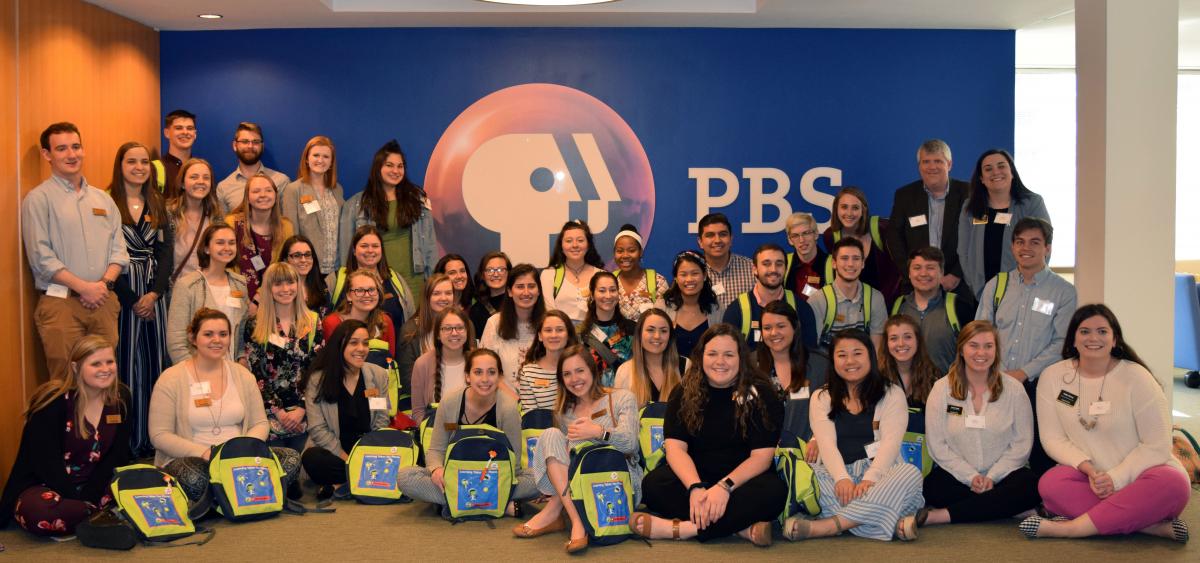 Students and staff show off their PBS swag at the headquarters in Arlington, VA.
This rich professional development opportunity was made possible by Appalachian alumna Dani Iannelli '13, originally from Philadelphia, Pennsylvania, who now works for PBS as a digital immersion coordinator.
Junior and elementary education major from Winston Salem, North Carolina, Jean Carlos Garcia Reyes noted, "The ACES DC trip was absolutely amazing and so valuable! As a future educator, visiting PBS was very enriching. I learned about media literacy and the thousands of free resources available to me to use within my future classroom."
On Friday morning, students paid a visit to Sacred Heart Bilingual Catholic School to speak with administrators, observe classrooms, and learn more about their unique pedagogy and partnership with Project Zero and the Harvard Graduate School of Education. In preparation for the experience, students read Making Thinking Visible by Ron Richhart, Karin Morrison, and Mark Church, which is based on the Project Zero initiative.
The ACES students have been making an annual visit to Sacred Heart since 2014, and the program has built a lasting relationship with the school over the years. At the end of their visit, middle grades teacher and instructional coach, Kristen Kullberg, compiled the ACES visit, or in essence made thinking visible, with a piktochart.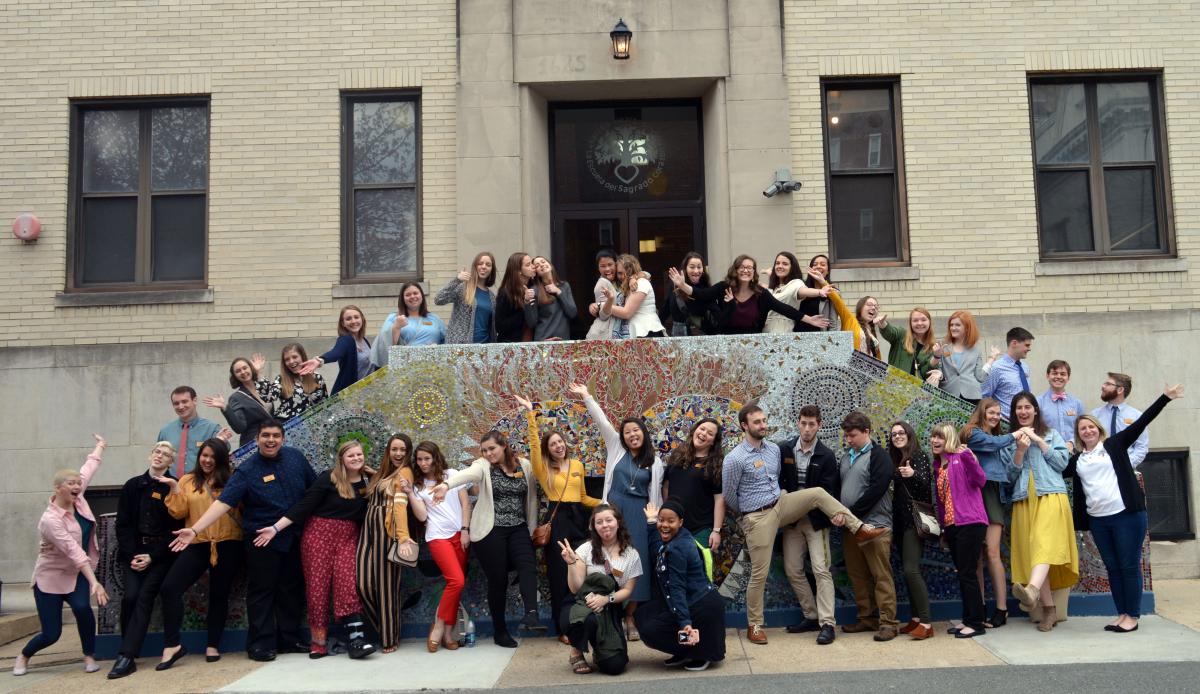 Students strike a pose in front of Sacred Heart Bilingual Catholic School with Principal Elise Heil and Instructional Coach, Kristen Kullberg.
Sophomore and elementary education major from Waxhaw, North Carolina, Samaria McKnight said, "When visiting Sacred Heart, I got to sit in on a 3rd grade class. I want to teach either 2nd or 3rd grade so this was right up my alley!"
She continued, "The teacher was doing a math lesson that incorporated stations. It was great to bond with the students in such a short time and before I left, one of the students said to me 'You're a great teacher!' and that rocked my world. To have only been in the class for maybe 30 minutes and make that much of an impact on some of the students means a lot and confirms my dream of wanting to teach elementary school!"
After the school visit on Friday morning, half of the ACES students went to the Holocaust Memorial Museum and half took a tour at the United States Capitol Building. Both groups of students enjoyed the tours, which were enlightening and informational. Many stated that they are excited to teach about the information they learned in their future classrooms one day.
In addition, ACES students were given an opportunity to give back to the D.C. community on Saturday morning through a service project at the National Cherry Blossom Festival. Students spent two and a half hours picking up trash and recycling near the Washington Monument, while enjoying the blossoms at their peak. This volunteer opportunity was the perfect ending to a trip filled with once-in-a-lifetime opportunities, and it was made possible with the help of NationalPark Service volunteer coordinator, U.S. Army veteran, and Appalachian alumnus James Pierce '09, originally from Archdale, North Carolina.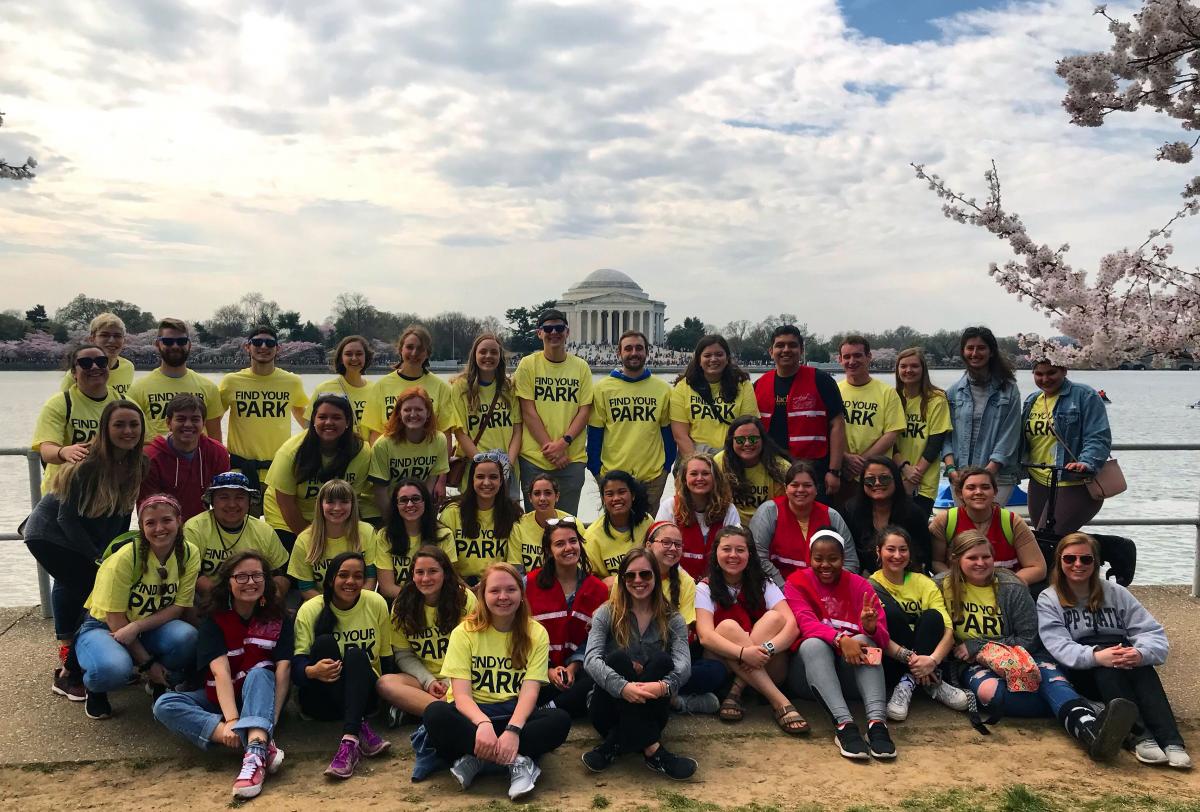 Students and staff gather at the tidal basin in front of the Jefferson Memorial after their service project with the National Cherry Blossom Festival.
Sophomore career and technical education major from Todd, North Carolina, Daisy Mullis, said of the experience, "It was so rewarding and nice to be enjoying the beautiful cherry blossoms while giving back to the community and helping with the National Parks Service."
Before embarking on the long drive back to Boone the ACES students made one final stop at the Arlington National Cemetery to view the Changing of the Guard and pay their respects to those who have served the country. Many students remarked that this was a moving and memorable experience.
Kasper noted, "Many times I have run into ACES and Teaching Fellows alumni, who are leading field trips, while we are in Washington, D.C. I often think about how in a few short years, these ACES students could be leading a trip here with their students. We are essentially scaffolding a field trip to a major metropolitan city for our students...giving them a blueprint to take to their classroom."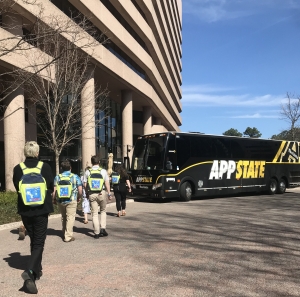 Tags: