Barnanne Creech (née Wilder), originally from Zebulon, North Carolina, graduated in 1990 with a B.S. in exercise science. She went on to complete her M.Ed. in health education from East Carolina University in 1999 and her National Board Certification in 2004.
"In 1985, Appalachian was the only college in the North Carolina system to offer an exercise science undergraduate major. I fell in love with App! The Appalachian community is my happy place still! Wish I could come back now and continue to learn!"
Currently, Barnanne teaches family and consumer science at Zebulon GT Magnet Middle School (Wake County Public Schools) in Zebulon, North Carolina. In addition, she serves as the school's career tech education department chair and career development coordinator.
She is also a member of her school's improvement team and is the site trainer for "Capturing Kids Hearts" program, which is a process/protocol created by the Flippen Group as a way to connect with students on a building relationships level:
Teachers engage students with a handshake as they enter class;
Students and teachers share good things;
Students create and follow a classroom code of behavior, allowing the space to be a safe place to share and learn.
Barnanne has also taught health and physical education for Nash, Johnson, and Wake counties. In addition, in the fall of 2018, Barnanne was invited to be a North Carolina Beginning Teacher mentor for Reich College of Education alumni.
Impacting Education in Her Community
Barnanne is making an impact on education in her community:
Participating on the North Carolina Department of Public Instruction Energizers Team
Training for American Red Cross Babysitting Training for all middle school family and consumer science teachers in North Carolina
Creating the Zebulon swim team
Member of the North Carolina Department of Public Instruction Curriculum Rewrite team for middle school family and consumer science
Barnanne is so proud to be a Mountaineer, and her legacy continues: "My son is a freshman in the honors college at Appalachian majoring in exercise science like I did!"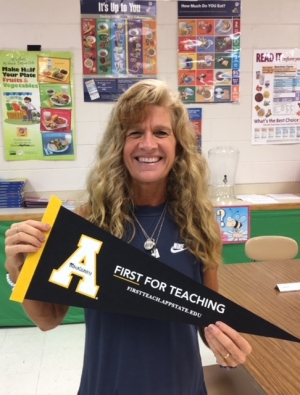 Tags: