Brandon Roeder, originally from Everett, Washington, graduated in 2019 with a M.A. in curriculum specialist. He received his bachelor's in biochemistry from the University of Washington.
"I was specifically looking for a program that would let me address arts education along with the larger narrative of curriculum and instruction. Appalachian was able to offer that in a remote format with remarkable professors while being incredibly rigorous and still maintaining a sense of community."
Currently, he is a K-12 Consultant for Music and Theatre Arts in the K-12 Standards, Curriculum and Instruction Division at the North Carolina Department of Public Instruction (NCDPI) in Raleigh, North Carolina. "I am part of a two-person team representing the arts in the division of Standards, Curriculum, and Instruction."
"I truly feel that my Master's program in curriculum prepared me for this job," said Roeder. "Not only did it prepare me, but having a curriculum master's in a content-specific field gave be a distinct edge over other candidates for the role because of my ability to support my beliefs with research and concrete pedagogy."
Impacting Education in His Community
Roeder is making an impact on education in his community.
In his role, he works with partner organizations, such as museums and performance groups; professional organizations, such as NCMEA, NCAEA, NCDEO, and NCTAE; and providing support to teachers to increase the impact of the arts on all children.
In this particularly challenging time of remote learning and looking at possible scenarios for returning to school in the fall, Roeder has made it a point to reach out to the field to garner input from arts teachers and arts administrators through surveys and Professional Learning Communities.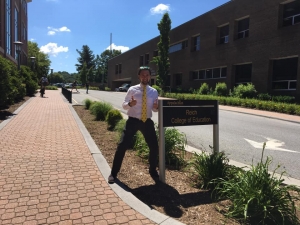 Tags: