Carla Herman (née Tuttle), originally from Hudson, North Carolina, graduated in 1993 with a B.S. in English secondary education.
"I love the mountains, and Appalachian has a beautiful campus. Appalachian also has a wonderful program for educators. The class sizes are relatively small for a university, and the students and faculty members are friendly and helpful."

Currently, Herman is an English teacher and department chair for Wake County Public Schools in Apex, North Carolina. She teaches English I, is a member of the Intervention Team, the creator and a co-teacher of a year-long English I class for struggling learners and readers at Apex Friendship High School.
Impacting Education in Her Community
Herman is making an impact on education in her community.
"I have served on several committees over the past 12 years to revise our district curriculum," said Herman. "Currently, I am on a curriculum team to redesign our high school English units of study, find more culturally responsive texts, and create lesson plans that can be shared with our district high school English teachers. We are focusing on standards-based lessons and units."
"I am always researching ways to engage students in learning while offering them various types of assessments to show their mastery of standards," said Herman.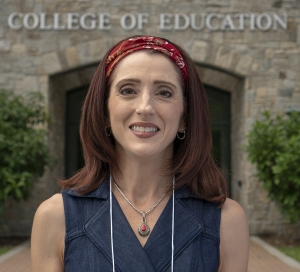 Tags: