Carla May (née Sain), originally from Vale, North Carolina, graduated in 1998 with a M.A. in middle grades mathematics education. She completed a B.A. from North Carolina State University and University of North Carolina - Charlotte with licensure in math/science education.
This fall, May begins her 28th year in education. She has taught middle school and high school mathematics and science and served in various administrative roles. She has also taught math at the collegiate level. Currently, she is the assistant principal of curriculum for Newton-Conover High School in Newton, North Carolina.
Recently, she was named the Assistant Principal of the Year for Newton-Conover City Schools for 2020-2021 in her first year of being with the district.
May was shocked to receive this award. "Especially after experiencing the year in which our entire state and nation worked so hard each day to continue moving students and staff forward in unprecedented circumstances."
"I am beyond honored to be recognized for doing the job that brings me so much joy and to be recognized among amazing colleagues," she added.
Impacting Education in Her Community
May is making an impact on education in her community through support for students and teachers.
"Beginning as a classroom teacher for many years, my goal was always to reach students and make them believe they were capable - at any level," said May. "I found the way to best achieve that was to never lower expectations for students. They will always find a way to reach and grow with support, encouragement, and understanding."
"Moving into collegiate teaching and then as an instructional facilitator, I spent time working with teachers to improve their instruction and to grow their toolbox of strategies for reaching students," she continued.
Now as an assistant principal, May feels she is blending the two. "I am able to help both stakeholders daily to be the very best they can be by guiding their paths and leading positive growth and change in curriculum, instruction, and discipline," she noted.
"I love those moments when students and teachers realize their goals and achievements - those lightbulb moments," she added. "Especially those who've always believed they couldn't or have stepped outside their comfort zone - that's the blessing received in this profession."
"That is the impact I work to have every day on all lives I am allowed to touch," May noted. "I am forever grateful to Appalachian State and the knowledge gained during graduate school to help develop my love of curriculum, my zest for great instruction, and my drive to meet the needs of all I encounter."
Why App State
"I chose Appalachian State University for my Master's degree for multiple reasons," said Clark. "One, the institution is known for its ability to train and produce quality educators as has been evidenced for over a century."
"Secondly, at the time App State had just begun utilizing the 'information highway' to stream classes from App State to Catawba and Rutherford counties," she continued. "I was fortunate enough to be able to complete this degree with only having to make the hour and half commute for the Graduate-Teacher term in the Summer, while taking other classes much closer to my home in Lincoln County."
"Appalachian made it more than accessible for working educators to further their own personal learning while allowing those same educators to benefit from the reputation advanced degrees from this institution carried," she added.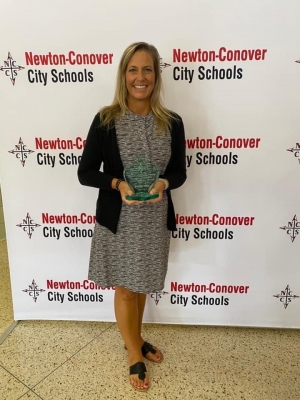 Tags: