Hillary Bowlin, originally from Ashe County, North Carolina, graduated in 2014 with a B.S. in technology education. Currently, she is the Middle Grades Career Development Coordinator and Technology Education Teacher at Alleghany County Schools in Sparta, North Carolina, teaching sixth through eighth grades at the three K-8 schools.
"My two specialty areas are technology education and career development," said Bowlin. "For sixth and seventh grades, I teach a career exploration course, which includes exploring post-secondary options, different careers in our community, and how to plan high school courses to align with future career paths."
"For eighth grade, I teach a technology education course, which includes exploring engineering and technology-related subjects such as bridge building, prosthetics, coding, and electronics," she continued.
"I have wanted to be a teacher since fourth grade. I knew that Appalachian was the best teaching school in the state, which made it the obvious choice for me! A few of my family members attended Appalachian when it was known as 'Appalachian State Teachers College'!"
Bowlin is also the Technology Student Association (TSA) Advisor at Sparta Elementary School. She has been helping and working with the TSA organization since her time as a student at Appalachian. The Technology Education CTE Education Program (previously known as the Technology Education program) hosts the Western Regional Conference at Appalachian every February.
"I have watched the event grow from around 500 students attending, to 800+ students attending now," said Bowlin. "TSA is something I am very passionate about thanks to my time spent at Appalachian and also thanks to my advisor, Dr. Jerianne Taylor."
Impacting Education in Her Community
Bowlin is making an impact on education in her community. In her role as Middle Grades Career Development Coordinator, Bowlin brings local businesses and her school(s) together to help prepare students for their future careers.
"I am currently planning a Career Fair and STEM Expo for our students which brings our community members in to discuss with students different opportunities for internships, job shadowing, and also about what skills students need to be working on to be prepared for the world of work," she noted.
"I am also a member of Alleghany County School's Business Advisory Council (BAC), which is a team of representatives from Alleghany County Schools, Wilkes Community College, and local businesses and industries," Bowlin added. "During these meetings, I discuss what skills businesses/industries say need improvement based on their current employees and bring this information back to practice with my students so that they are better prepared for their future careers."
"Bringing our community into our schools has been very beneficial for our students," noted Bowlin. "It has helped them think about how their actions and their skills they are practicing now can impact their futures."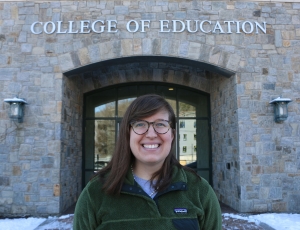 Tags: