Jamie Minton (née Waddell), originally from Millers Creek, North Carolina, graduated in 2007 with a B.S. in history secondary education and a B.S. in family and consumer sciences.
Currently, Minton is a family and consumer sciences teacher for Wilkes County Schools in Millers Creek, North Carolina. She teaches the Food and Nutrition I and II classes to ninth through twelfth graders.
"I choose Appalachian State University because many of my teachers recommended it for teacher training. Appalachian did not disappoint. I felt adequate when I stepped into student teaching and then my own classroom."
Impacting Education in Her Community
Minton is making an impact on education in her community.
"In the area of Career and Technical Education, I take the time the partner with businesses to enhance student learning," said Minton. "I have visited several businesses through the Wilkes Economic Development Corporation and have fostered relationships for student projects."
"I have also partnered with Gear Up to host many events with my students, including a Pitch Competition this past Spring semester," said Minton.
As a National Board Certified Teacher, Minton assists other National Board candidates pursue their certification in their National Boards area.
"I am proud to be an educator and I want to inform others of all of the great things that teachers do," said Minton.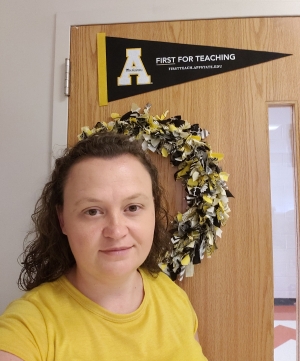 Tags: