Jennifer Clark (née Warren), originally from Taylorsville, North Carolina, graduated in 1998 with a B.S. in special education. She completed her M.A. in special education in 2003.
"I chose Appalachian primarily because of the location and size. After some research of competitive programs, I realized that I could receive a quality education that would prepare me for a sustainable future while still allowing me to spend time with my family and maintain local friendships through weekend visits. I would also be able to continue my part-time job on weekends in a local group home which inspired me to pursue a future working with individuals with special needs."
Currently, Jennifer is an exceptional children (EC) program specialist for Alexander County Schools in Taylorsville.
As an EC program specialist, she provides a variety of tasks to monitor the operation of programs for exceptional students and oversees program compliance. She participates in the child placement process and ensures adherence to federal, state, and local policies and procedures.
Impacting Education in Her Community
Jennifer is making an impact on education in her community:
Providing support for programming and instruction across EC settings by consulting with teachers.
Locating materials.
Connecting teachers with curriculum specialists.
Providing formal and informal professional development to educators and administrators.

Contributed by Rebekah Saylors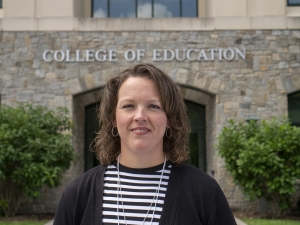 Tags: