Jennifer Lowe (née Godwin), originally from Mount Airy, North Carolina, graduated in 1992 with a B.S. in English. She completed her M.A. in reading education in 1994.
"I stayed at Appalachian because the graduate degree I was interested in was offered, and I didn't want to leave Boone!"
This will be Jennifer's first year teaching high school English after 20 years as an elementary school reading specialist. She is employed with Surry County Schools in Pilot Mountain, North Carolina. She will be teaching freshman and honors English.
Impacting Education in Her Community
Jennifer is making an impact on education in her community. As the National Board district coordinator, she has many opportunities to encourage and support teachers in their National Board candidacy.
As a reading specialist, Jennifer has had the opportunity to teach hundreds of children important reading skills that will benefit them throughout their lives. She shares one of many amazing success stories: "I taught Paul when he was in 1st grade. He did not have a lot of confidence or motivation. But with love, time, and persistence, I was able to exit Paul from our program after 2nd grade with confidence that he would succeed. I attended his 5th-grade graduation with a promise that I would be at all of his other graduations as well."
Appalachian State University, the professors, and Boone have all shaped Jennifer's career in the most positive ways. She notes, "My deepest thanks goes to Dr. Thomas McLaughlin for being the teacher who inspired me to want to be a teacher and to Dr. Darrell Morris for his amazing wisdom and simplicity of teaching about children and the reading process that built the foundation of my professional career."
Contributed by Rebekah Saylors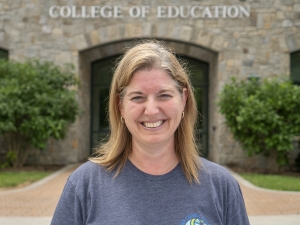 Tags: