Jordan Montgomery, originally from Tucson, Arizona, graduated in 2014 with a M.A. in marriage and family therapy. She completed a Ph.D. in marriage and family therapy, from Florida State University, and a bachelor's degree in Family Studies and Human Development, from The University of Arizona.
Currently, she is a postdoctoral research fellow at Florida State University College of Medicine's Center for Child Stress & Health in Immokalee, Florida.
"As part of my postdoctoral fellowship, I am responsible for presenting lectures on the impact of adverse childhood experiences (ACEs) and toxic stress on children throughout development and also analyzing data collected during well-child visit screenings," said Montgomery.
Her presentations focus on how ACEs and toxic stress impact children, specifically in Immokalee, Florida, which is a rural Latino and Haitian migrant farm-working population in southwest Florida.
Impacting Her Community
Montgomery is making an impact on her community. Florida State University College of Medicine and Health Care Network of Southwest Florida collaborate in the pediatric clinic in Immokalee, Florida. As part of medical care, children are screened for ACEs and toxic stress during their well-child visits.
"Adverse events can have an impact on healthy child development," noted Montgomery. Screenings have been implemented in Immokalee for both preventative measures and to provide intervention and resources for families when needed. Data outputs they analyzed last year showed that close to 50% of children in Immokalee have experienced one or more ACE events.
"Additionally, children in Immokalee are exposed to a number of different risk factors, whether it be forms of oppression, poverty, and lack of access to resources," she continued. "So, that's another reason it is crucial to screen and provide families with resources." When children have a positive screen result, they are immediately connected with a clinical health psychologist during their visit in the pediatric clinic.
Montgomery has had the opportunity to present locally, regionally, and nationally.
"During these presentations, I explain what ACEs are, how toxic stress can impact child development and the importance of trauma-informed approaches," she said.
"I really value the work I am doing because I am getting to help provide education on ACEs, and specifically ACEs experienced by children here in Immokalee," she continued. "I am passionate about social justice and health equity, so I am grateful that I get to work with this population and raise awareness about ACEs."
Montgomery also provides mental health crisis therapy to families, as well as tele-psychology mental health services to children and their families in a rural migrant farm-working population in Gadsden County, Florida.
What is Toxic Stress
Montgomery explains that toxic stress can be the result of a child experiencing an ACE event and is the chronic activation of the stress response system.
"Think about a child's body being in constant activation of a fight, flight, or freeze survival response," said Montgomery. "Research indicates this occurs when a child has experienced an adverse or traumatic event. Over time, toxic stress can impact the healthy development of a child's physical and mental health."
"There are specific protective factors that can buffer the impact of toxic stress, such as a consistent, reliable, and supportive caregiver," she noted.
Why Appalachian
"I decided to go to Appalachian State University because I wanted a new experience away from home where I had grown up my whole life and went to undergrad," said Jordan. "Everyone I met were so welcoming and inclusive. It felt like home."
"Additionally, I was offered a Graduate Assistantship in University Housing," she continued. "I had the rewarding experience of co-advising undergraduate leadership organizations in University Housing as well as responding to on-campus crisis situations during duty rotations."
"Appalachian State University's marriage and family therapy program was an invaluable experience for me," she noted. "I grew and changed so much. It helped shape me into who I am now as an individual, therapist, and researcher."
Jordan noted the knowledge she gained from the program:
social justice in the field of marriage and family therapy and mental health;
the importance of creating a safe space for clients and families experiencing oppression; and
awareness of her own power and privilege and the importance of being aware of this when creating a safe space for clients.
"My experience at Appalachian State University sparked a passion in me for social justice, equity, and inclusion as a therapist and a researcher and also helped shape my career trajectory," said Jordan. "The faculty in the program care so much about the development of their students as individuals and therapists."
"I also had an amazingly supportive cohort who were like a second family to me," she added. "I will forever be grateful for the experience I had on that magical mountain."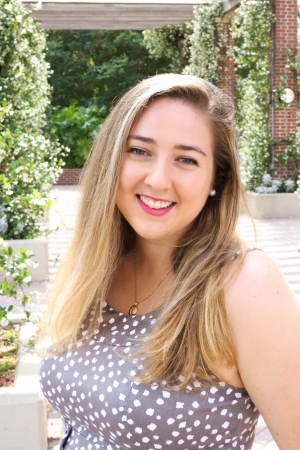 Tags: