Marie Larson (née Arrington), originally from Pfafftown, North Carolina, graduated in 1991 with a B.S. in elementary education.
"I chose Appalachian for my degree because the Reich College of Education had, and still has, an excellent reputation for preparing future teachers. As an NC Teaching Fellow, Appalachian provided me with special classes and opportunities to get into classrooms in the surrounding communities a bit earlier. It also didn't hurt that App State sits in the middle of some of the most beautiful areas in the state!"
Marie is employed as an Early Learning Partner with Winston-Salem/Forsyth County Schools in Winston Salem, North Carolina. She works with kindergarten teachers in seven schools, overseeing implementation of research-based instructional methodologies, as well as providing direct coaching and modeling for teachers who are part of the Direct Instruction programs. Her responsibilities also include data collection, staff training, and observations.
Before taking on the role as an Early Learning Partner, Marie spent 27 years in the classroom as a kindergarten, first grade, and fourth grade teacher.
Impacting Education in Her Community
Marie is making an impact on education in her community. Through the Office of Early Learning, Marie and her team:
Advocate for the support of early learning and educating the community and school leadership about the importance of early learning;
Work with the community and the school system to establish best practice and consistent practice throughout the system to support the growth of all students;
Provide research-based professional development and support to kindergarten teachers to engage parents, teachers, students and the community in early learning.
With the best for the child in mind, Marie and her team are working to support, grow, and foster each and every child's learning.
Marie's family is a family of Mountaineers: her husband graduated in 1990 with a degree in hospitality management; her daughter, Cheryl, graduated in 2016 with a degree in criminal justice and 2018 with her master's in public administration; and her daughter, Hannah, is currently a sophomore studying nutrition.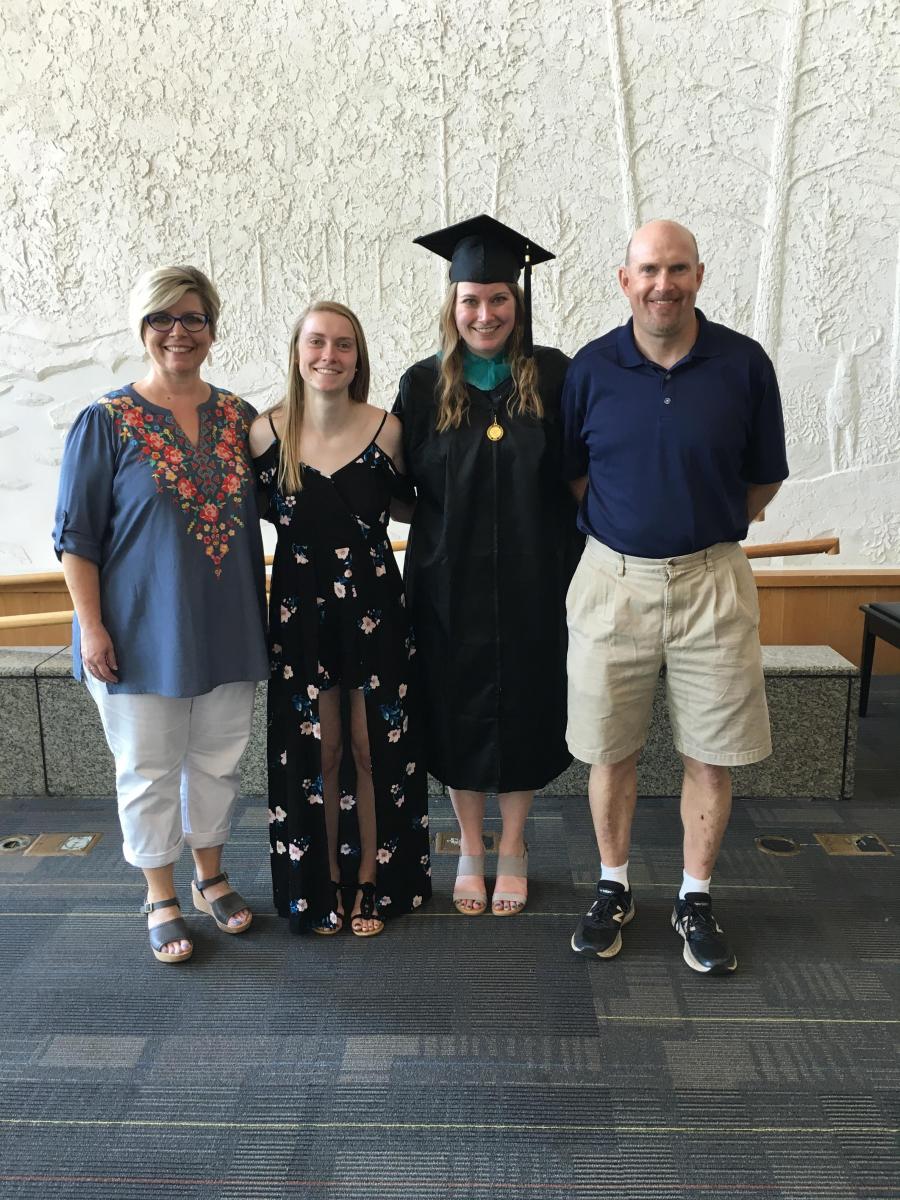 Marie (far left) with her family at her daughter's MPA hooding ceremony. Photo submitted

Contributed by Rebekah Saylors
Tags: