Sharon Sterken, originally from Greensboro, North Carolina, graduated in 1997 with a B.S. in mathematics secondary education.
Currently, Sterken is a teacher and department chair at New Hanover County Schools in Wilmington, North Carolina. She teaches math, pre-calculus, and AP statistics.
"I chose Appalachian State because of the overall atmosphere. The students, faculty and community members are all friendly and helpful. As soon as I visited Boone, I knew App State was the place for me!"

Sterken is also a Nationally Board Certified teacher. She began the certification process the first year she was able, completing it with a friend and colleague.
"I really wanted to be the best teacher I could be and the thought process and reflection component that the National Board program offers was exactly what I needed," she said. "I am definitely a better teacher because of this!"
Impacting Education in Her Community
Sterken is making an impact on education in her community by offering professional development to fellow math educators. Her sessions focus on fun ways to teach and keep students engaged.
She also blogs about her experiences, sharing all of her activities on her blog so that other high school math teachers can use them in their classes.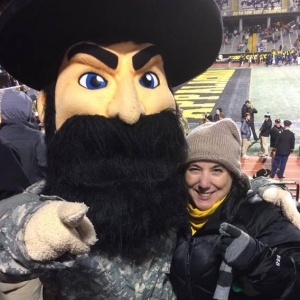 Tags: